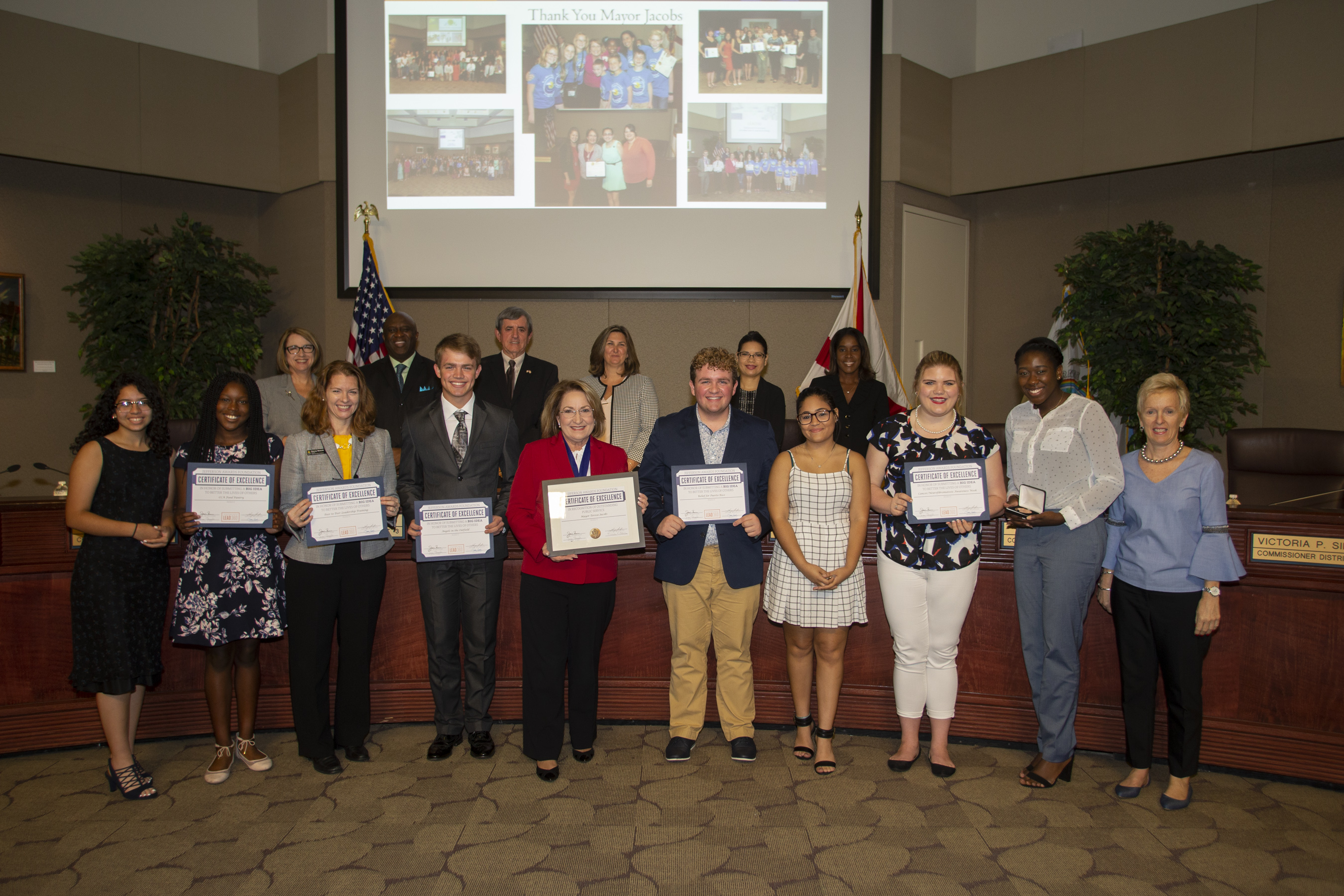 Orange County Recognizes Winners of the 2018 Jefferson Awards' Lead360 Challenge
Orange County Mayor Teresa Jacobs and the Orange County Board of County Commissioners (BCC) recognized local students for their work and dedication to public service and community during the County's annual Jefferson Awards' Lead360 Challenge presentation at the BCC meeting on May 22, 2018.
Since 2013, Orange County Government has partnered with the Jefferson Awards Foundation to host the Lead360 Challenge. The Jefferson Awards, founded by Jacqueline Kennedy Onassis, U.S. Senator Robert Taft, Jr. and Sam Beard, is the country's longest standing and most prestigious organization dedicated to activating and celebrating public service. The program engages and celebrates America's youth for their efforts in making a difference in their communities.
Mayor Jacobs presented each honoree with a certificate. Honorees included elementary, middle, high school, and college students and teachers, who volunteered in five different projects and two big idea programs. The projects and big ideas addressed a variety of community issues, including sustainability, hunger and poverty, mentoring, health and wellness and disaster relief.
Recognized participants and projects include:
Go Green Fashion Show – Timber Creek High School French Honor Society
Packages for the Homeless – Marissa Angel, independent student submission
Angles in the Outfield – Parker Wood, independent student submission, Timber Creek High School
Peer-to-Peer Leadership Training – University of Central Florida Lead Scholars
Cornerstone Charter Academy Food Pantry – Cornerstone Charter Academy National Honor Society
Relief for Puerto Rico – Cornerstone Charter Academy Dedicated Ducks
Cancer/Neurofibromatosis Awareness Week – Cornerstone Charter Academy Junior Honor Society, National Honor Society and Service Learning Club
"The foundation of this award is volunteerism and service," Mayor Jacobs said. "Community service is truly the foundation for a healthy community. Here in Orange County, we're blessed to have active, engaged residents. They are making a difference in our region and community every single day."
Cornerstone Charter Academy's Cancer/Neurofibromatosis Awareness Week project was named the Mayor's Top Project by the Orange County's Citizens' Commission for Children. The project was led by the school's National Junior Honor Society, National Honors Society and Service Learning Club and raised funds and awareness for cancer and Neurofibromatosis, honoring a former teacher and governing board member's daughter who live with the illnesses. Their efforts achieved more than 9,200 hours of service, as well as more than $1,200 raised.
Michele Fidance, National Director for the Jefferson Awards, presented awards at the BCC meeting.
"I want to thank Mayor Jacobs and the Board of County Commissioners for supporting the Lead360 Challenge for another year," said Fidance. "The Jefferson Awards Foundation and our Lead360 Challenge allows our participants to share their service story with millions."
Fidance also presented Mayor Jacobs with a Jefferson Awards' medal and certificate for her dedication to public service and her work and focus on youth programs during her two-terms as Mayor. Fidance highlighted Mayor Jacobs' community initiatives including the success of her Youth Leadership Conferences, Holiday Heroes Toy Drive, Adopt a Fire Station, the Let's Read initiative for youth, Orange County's Homelessness initiative and more.
Altogether, more than 150 volunteers participated in the Lead360 Challenge this year, serving more than 9,700 volunteer hours and impacting more than 1,800 lives. This year's challenge also generated a financial impact of more than $220,000 within the region.
Photo Caption: Mayor Teresa Jacobs and Orange County's Board of County Commissioners recognize student leaders from across Orange County during the annual Jefferson Awards' Lead360 Challenge, which highlights volunteerism and public service in the community.
2018 Jefferson Awards
43 Photos