11 December, 2018
Doreen Overstreet, Senior Public Information Officer, Orange County Government
Email: Doreen.Overstreet@ocfl.net
Phone: 407-836-5301
Orange County Mayor Announces Four Senior Staff Appointments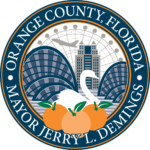 Orange County, Fla. (Dec. 11, 2018) – Today, Orange County Mayor Jerry L. Demings announced four Orange County Government veterans for key staff appointments to his new administration. The appointments include:
Jeffrey J. Newton, County Attorney: Previous work: Since 2011, has served as Orange County's County Attorney and has been reappointed to that position by Mayor Demings. Other positions of note: Deputy County Attorney in Seminole County as well as County Attorney in Broward County for five years. Prior to that, he worked for Orange County Government for a total of 13 years as Deputy County Attorney and Assistant County Attorney. Newton practiced in private law as an attorney at Merchant, Davis & Rosenblum/Pearson & Newton in Connecticut; Education: J.D., University of Connecticut School of Law; B.S., University of Bridgeport in Connecticut.
Louis A. Quiñones, Jr., Chief of Orange County Corrections: Previous work: Since 2017, has served as Deputy Chief of Operational Services at Orange County Corrections. Quiñones has a total of 31 years of experience in the field of Corrections and has been employed with four large agencies in two states. In his new position, Quiñones will provide oversight and leadership to the fifth-largest jail in Florida, with an average population of more than 2,400 inmates and more than 1,700 staff members. He will serve as the County's first Hispanic Chief of Corrections. Other positions of note: Bexar County Sheriff's Office in TX as Deputy Chief, Assistant Jail Administrator; Captain at Osceola County Corrections; Broward County Sheriff's Office as Detention Deputy; Orange County Correctional Department as Captain. Education: M.S., Mountain State University; B.A. in Criminal Justice Administration, Columbia College.
Randy Singh, CGFO, CPFO, Deputy County Administrator, Administration & Fiscal Services: Previous work: Since 2014, he has served as Assistant County Administrator at Orange County Government overseeing the Family Services Department, the Administrative Services Department, the Office of Management & Budget, the Office of Economic Trade and Tourism as well as being a liaison to all County Constitutional Offices. In his new role, he will oversee all of the fiscal and administration services of the County, including the $4.4 billion budget as well as the Human Resources Division. Other positions of note: Singh has a total of more than 30 years of professional experience. He served as Manager of the Office of Management & Budget at Orange County for more than 12 years; Office of Management & Budget Administrator at Orange County; LYNX's Manager of Financial Planning and Budgets; Education: B.S. in Accounting from the City University of New York's Bernard M. Baruch College of Business. In addition, he is a Certified Public Finance Officer (CPFO) within the United States and Canada and a Certified Government Finance Officer (CGFO) within the State of Florida.
Chris Testerman, AICP, Deputy County Administrator, Infrastructure, Community & Development Services: Previous work: Since 2012, he has served as Assistant County Administrator for Infrastructure Services and Government Relations at Orange County Government. In his new position he will continue to be responsible for the oversight of all the County divisions associated with growth and development. Other positions of note: Testerman has served Orange County Government for more than 28 years. His positions have included Orange County Director of Government Relations and Manager of the Planning Division as well as Chief Planner and Senior Planner. Education: Master's in Public Administration from the University of Central Florida; B.S. from Florida State University.
"All of these professionals bring extensive experience in each of their respective fields," said Mayor Demings. "They have proven to be excellent public servants to Orange County Government, and I'm confident they will carry out their appointments with continued service and distinction.  I look forward to working with them in my administration."
All four appointments will be confirmed on the consent agenda for the Dec. 18, 2018 Orange County Board of County Commissioners meeting.
About Orange County Government: Orange County Government strives to serve its residents and guests with integrity, honesty, fairness and professionalism. Located in Central Florida, Orange County includes 13 municipalities and is home to world-famous theme parks, one of the nation's largest convention centers and a thriving life science research park. Seven elected members make up the Board of County Commissioners, including the Mayor, who is elected countywide. For more information, please visit www.OCFL.net or go to Orange County Government's social media channels.
Back To Top