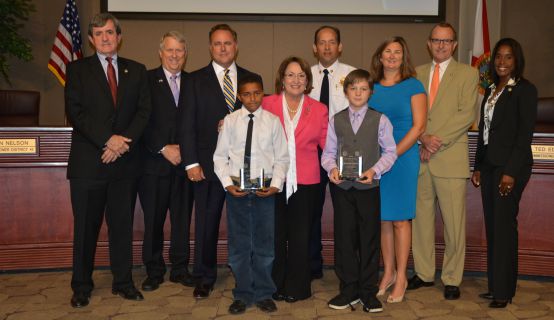 Orange County Recognizes Children for Saving Lives During House Fire
Orange County Mayor Teresa Jacobs and Fire Chief Otto Drozd III honored Isiah Francis, 10, and Jeremiah Grimes, 11, at the Board of County Commissioners meeting today for calling 911 and rescuing two small children from a burning home on June 16.
The boys each received a Mayor's Hero Award, an Honorary Firefighter plaque and a scholarship to attend the Central Florida Fire Academy when they turn 18. Additionally, community partners like SeaWorld provided goodies for the kids.
"We are so grateful for the remarkable actions of Jeremiah and Isiah," said Orange County Mayor Teresa Jacobs. "The qualities, the courage and the compassion that these two young men displayed were clearly instilled by their parents, teachers and community. We are so glad that these young men knew to call 911, and were able to save two lives."
Both children can be heard on the 911 call reporting the emergency. When Orange County Fire Rescue arrived on scene, two children and one adult were safely out of the structure.
"These children exhibited exceptional bravery, and their families should be very proud," said Drozd. "They called 911 so our firefighters could immediately respond to the emergency. Furthermore, they rescued two children from the burning residence, saving their lives."
Crews conducted a search and rescue in the home, which was 75 percent involved, and discovered two additional children in the home. Those two children were transported to Arnold Palmer Hospital in critical condition. One child has since passed away.
Orange County Fire Rescue is submitting the children's heroic acts to the Carnegie Hero Fund Commission for consideration of honoring them with a Carnegie Medal.
Orange County Fire Rescue is the largest fire and rescue department in Central Florida. It serves more than 924,000 citizens and visitors and responds to nearly 100,000 calls for service annually.
The mission of the Orange County Fire and Rescue Department is to provide fire suppression, emergency medical and community risk reduction services to ensure our community can enjoy a high quality life and property protection delivered with compassion and integrity.
A collection of photos from the Board of County Commissioners meeting are available for use by the media on Flickr.