03 December, 2018
Doreen Overstreet, Senior Public Information Officer, Orange County Government
Email: Doreen.Overstreet@ocfl.net
Phone: 407-836-5301
Orange County Mayor-Elect Jerry L. Demings Announces Four Key Staff Appointments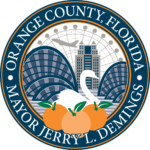 Orange County, Fla. – Today, Orange County Mayor-elect Jerry L. Demings announced four key staff appointments to his new administration. The appointments include:
Byron W. Brooks, A.I.C.P., County Administrator: Previous work: For the past 13 years, he has served as Chief Administrative Officer with the City of Orlando, where he oversees all operating departments in the organization of 3,600 employees as well as an operating budget of $1.3 billion. He has more than 32 years of experience in the public sector. Other positions of note: Orange County Deputy County Administrator, serving Orange County Government for 14 years; Executive Director of LYNX; Education: M.A., Clemson University; B.A., Furman University.
Roseann Harrington, Chief of Staff: Previous work: Vice President of Marketing, Communications and Community Relations at the Orlando Utilities Commission (OUC). She joined OUC in 1986 and has been responsible for all internal and external corporate relations including: communications, media relations, marketing, customer education, advertising, community relations, stakeholder engagement, employee involvement, e-commerce and economic development. Education: M.B.A., Rollins College; B.A., Loyola University.
Carol Burkett, Deputy Chief of Staff: Previous work: For the past 13 years, she has served as Director of Orange County's Drug Free Coalition and worked as the staff liaison for drug-related task forces and coordinates other special projects for the county. She has worked for state and local government for a total of 24 years. Other positions of note: Assistant to the Public Safety Director for Orange County; Interim Manager of Public Safety Communications for Orange County. Education: B.S., East Tennessee State University.
Jeff Williamson, Communications Manager: Previous work: Since 2010, he has served as Public Information Officer and Spokesman for the Orange County Sheriff's Office, and has more than 22 years of professional experience in communications. Other positions of note: Williamson worked as an award-winning broadcast news journalist in various markets including WJHG-TV, Panama City Beach, SNN; the New York Times Cable News Station in Sarasota; and WVLT-TV in Knoxville, TN. Education: Ph.D., sociology from the University of Central Florida; M.A., New York University; B.A., Oakwood University.
"I am pleased to make these key staff member appointments and have the utmost confidence in this dynamic team's abilities," said Mayor-elect Demings. "All of these talented individuals are outstanding veterans of prior public service and will be an asset to the leadership of Orange County Government and to the more than 1.3 million residents of Orange County who we serve."
As Orange County Mayor-elect, Demings will oversee a budget of $4.4 billion and more than 7,500 employees. Orange County is the fifth-largest county in Florida in terms of population.
Mayor-elect Demings will be sworn in as the first African-American Orange County Mayor on Dec. 4, 2018. The Orlando native is no stranger to trailblazing as he served as Orlando's first African-American Police Chief, the first African-American Director of Public Safety in Orange County and was elected the first African-American Sheriff and Constitutional Officer in the history of Orange County. For more information about the 2018 Oath of Office, visit www.ocfl.net/oath.
About Orange County Government: Orange County Government strives to serve its residents and guests with integrity, honesty, fairness and professionalism. Located in Central Florida, Orange County includes 13 municipalities and is home to world-famous theme parks, one of the nation's largest convention centers and a thriving life science research park. Seven elected members make up the Board of County Commissioners, including the Mayor, who is elected countywide. For more information, please visit www.OCFL.net or go to Orange County Government's social media channels.
Back To Top