22 March, 2019
Doreen Overstreet, Senior Public Information Officer, Orange County Government
Email: Doreen.Overstreet@ocfl.net
Phone: 407-836-5301
Orange County Convention Center Announces Search for New Executive Director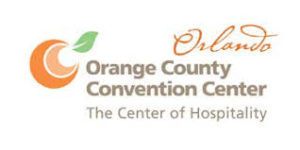 Orlando, Fla. (March 22, 2019) – Orange County Government and the Orange County Convention Center (OCCC) recently announced the opening of the search for a new Executive Director to lead the nation's second-largest convention center. This position is responsible for the overall planning, marketing, operations, and activities of the OCCC to ensure a positive economic impact on the community.
The OCCC is owned and operated by Orange County Government, led by Orange County Mayor Jerry L. Demings. Additionally, the Board of County Commissioners oversees the management of the Center. With strategic leadership throughout Orange County, the Center has evolved into a state-of-the-art, world-class convention facility, hosting over 200 events each year, providing an approximately 2.1 billion dollar total economic impact annually to the Central Florida economy.
Applicants with experience at the Assistant General Manager, Deputy CEO, or Deputy General Managerial level and above overseeing at least 700,000 square feet of exhibit space and those with experience in working with the hospitality industry and destination marketing organizations are preferred. The ideal candidate also has specific knowledge of national and international trade shows, conventions, and association meetings and demonstrates strong interpersonal, communication, customer service, and problem-solving skills.
The compensation range for this role is $180,000 per year to $250,000. Candidates may be eligible for bonus compensation based on specific performance criteria.
The new Executive Director will replace Jessie Allen, who was appointed to the role on an interim basis in January of 2018 after the retirement of former Executive Director Kathie Canning.
"The Orange County Convention Center has experienced tremendous growth over the past three decades," says interim Executive Director Jessie Allen. "The next Executive Director of the Convention Center will lead a new era of growth, including the $605-million Capital Improvement Projects that will add a new ballroom, multipurpose venue, and meeting rooms to the North-South Building."
More information about the Executive Director opportunity, including a link to the application, is available on the OCCC website at http://bit.ly/OCCC-Executive-Director-Search-pr
About Orange County Government: Orange County Government strives to serve its residents and guests with integrity, honesty, fairness and professionalism. Located in Central Florida, Orange County includes 13 municipalities and is home to world-famous theme parks, one of the nation's largest convention centers and a thriving life science research park. Seven elected members make up the Board of County Commissioners, including the Mayor, who is elected countywide. For more information, please visit www.OCFL.net or go to Orange County Government's social media channels.
Back To Top