29 May, 2019
Kelly Finkelstein, Senior Public Information Officer, Orange County Government
Email: Kelly.Finkelstein@ocfl.net
Office: 407-836-5818
Mobile: 407-468-5289

Housing for All Task Force Announces a Design Workshop To Share Ideas about Affordable Housing Solutions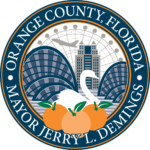 (Orange County, Fla.) – As part of Orange County Mayor Jerry L. Demings' Housing for All Task Force, Orange County is organizing a special Housing for All workshop to help plan, design and create ways to implement affordable housing projects to meet the needs of our growing community. Participating organizations and business from the Central Florida development community include University of Florida CityLab students, members of the AIA Young Architects Forum, Orange County Government staff and members of the Central Florida development community.
These workshops are a collaborative and interactive effort to develop potential solutions to Central Florida's affordable housing crisis. Participants will create site plans, floor plans and architecture designs and evaluate land use and zoning requirements.
The work plan and design outcomes will be presented to the Housing for All Task Force
Who: Interested persons are welcome to provide comments and ask questions during the open forum review and final presentations.
When: May 31, 2019 – open forum review
June 3, 2019 – final presentations
Both days will be from 5 p.m. to 8 p.m.
Where: The University of Florida CityLab (Fairwinds Tower) 135 W Central Blvd #500, Orlando, FL 32801.
For more information and a full list of Task Force members, visit www.ocfl.net/HousingForAll.
About Orange County Government: Orange County Government strives to serve its residents and guests with integrity, honesty, fairness and professionalism. Located in Central Florida, Orange County includes 13 municipalities and is home to world-famous theme parks, one of the nation's largest convention centers and a thriving life science research park. Seven elected members make up the Board of County Commissioners, including the Mayor, who is elected countywide. For more information, please visit www.OCFL.net or go to Orange County Government's social media channels.
Back To Top