23 January, 2020
For Orange County: Kelly Finkelstein, PIO@ocfl.net, 407-468-5289
For Nemours Children's Health System: Margot Winick, margot.winick@nemours.org, 407-785-5766
Local Experts Address the Health Risks of Vaping at Orange County Educational Forum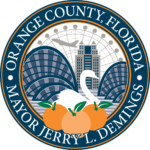 Orange County Mayor Jerry L. Demings invites the public to learn more about the health risks associated with vaping at a free panel discussion with local medical experts.
WHAT/WHO: Orange County Mayor Jerry Demings will welcome local doctors from Nemours Children's Health System to discuss the symptoms they have seen, and what parents and teens need to know about vaping-related illnesses.
This free public forum is entitled "Vaping in Adolescents – Fact vs. Fiction. What you need to know." Attendees will have the opportunity to ask questions of the experts.
Scheduled to speak:
Dr. Lonna Gordon, MD Adolescent Medicine
Dr. Floyd Livingston, MD Pulmonology
Dr. Gift Kopsombut, MD Hospital Medicine
Dr. Thomas Hall, PhD Orange County Drug Free Coalition
WHEN/WHERE: Registration begins at 5:45 p.m. Presentation is 6 – 7:30 p.m. Monday, January 27, 2020, Orange County Board of County Commission Chambers, 201 S. Rosalind Ave., downtown Orlando.
WHY: Nationwide, more than 1,000 cases of vaping-related illnesses have been reported to the Centers for Disease Control and Prevention from 48 states and 1 U.S. territory this year. There have been 18 deaths in 15 states.
In Florida, the Department of Health reports that there has been one death and 39 confirmed cases of lung injury associated with vaping in the state as of Oct. 1, 2019.
About Orange County Government: Orange County Government strives to serve its residents and guests with integrity, honesty, fairness and professionalism. Located in Central Florida, Orange County includes 13 municipalities and is home to world-famous theme parks, one of the nation's largest convention centers and a thriving life science research park. Seven elected members make up the Board of County Commissioners, including the Mayor, who is elected countywide. For more information, please visit www.OCFL.net or go to Orange County Government's social media channels.
Back To Top