17 April, 2020
For general inquiries, questions or feedback, email EconomicRecovery@ocfl.net.
For any media inquiries on the Orange County Economic Recovery Task Force, contact PIO@ocfl.net.
Mayor Demings Forms Orange County Economic Recovery Task Force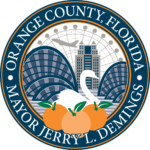 George Aguel and Tim Giuliani Named as Co-Chairs
Orange County, Fla. – In an effort to work on a measured approach to restarting the local economy from the COVID-19 pandemic, Orange County Mayor Jerry L. Demings announced the creation of the "Orange County Economic Recovery Task Force," which will be co-chaired by George Aguel, president & CEO of Visit Orlando and Tim Giuliani,  president & CEO of the Orlando Economic Partnership.
"These are some of the best and brightest minds in our community, and the public-private Task Force will come up with recommendations to reopen Orange County using the safest and most sensible avenues possible," said Mayor Demings. "I am confident we'll be able to get Orange County and Orlando on the road to economic recovery while we save both lives and livelihoods."
The group will consist of nearly 50 individuals representing local hospitals, theme parks, financial institutions, hotels, small businesses and non-profit economic development agencies. The Task Force will also include representatives from Lake, Osceola and Seminole counties.
"One of the most significant strengths we have as a destination is our history of working together as a community, especially in times of crisis," said Aguel. "On behalf of the thousands of tourism businesses we represent, we're grateful for Mayor Demings' leadership in establishing this Task Force as a united effort to achieve a successful recovery."
The group will focus on recommendations for reopening Orange County, including a phased approach to easing restrictions, while also ensuring the safety of employees and the public.
"The Partnership continues to hear from our local businesses that have been impacted by the COVID-19 crisis. While many are hoping to reopen soon, we must ensure a safe and thoughtful environment so our economy can thrive once again," said Preside Giuliani. "I am eager to serve our business community as the co-chair of the Task Force, and I applaud Mayor Demings for his leadership throughout this difficult time. We stand ready to work together."
The first meeting will be Wednesday, April 22, 2020 from 9 to 10:30 a.m. and will be conducted virtually.
Orange TV will carry the Orange County Economic Recovery Task Force meeting live.  Viewing options include Channel 488 on Spectrum, Channel 9 on Comcast, 1081 CenturyLink Prism TV,  WSWF Channel 10.2 (over the air), and stream live at www.ocfl.net/orangetv and you can view via the Orange TV app on ROKU in the Education category.
For more information and upcoming meetings, visit www.ocfl.net/EconomicRecovery. For questions or additional information regarding the Orange County Economic Recovery Task Force contact EconomicRecovery@ocfl.net.
Co-Chairs:
Orlando Economic Partnership, Tim Giuliani, President and CEO
Visit Orlando, George Aguel, President and CEO
Members:
AdventHealth, Scott Brady, MD, Senior Vice President of Ambulatory Services
Alfond Inn, Jesse Martinez, General Manager
Black Business Investment Fund (BBIF), Inez Long, President and CEO
CareerSource Central Florida Pamela Nabors, President and CEO
Central Florida Auto Dealers Association, Evelyn Cardenas, CEO
Church Street Entertainment, Doug Taylor, Managing Partner
City of Orlando & Orlando Venues, Allen Johnson, Chief Venues Officer
Curley & Pynn Public Relations, Dan Ward, President
Darden Restaurants, Dave George, EVP and Chief Operating Officer
Don Julio's Mexican Kitchen, Florencio "Larry" Rodriguez, Owner
Phillips Center for the Performing Arts, Kathy Ramsberger, President & CEO
Florida Department of Health in Orange County, Raul Pino, MD, Director
Highwoods Properties, Steve Garrity, Vice President
Hyatt, Brian Combs
J Henry's Barber Shop, John Henry, Owner
John Michael Exquisite Weddings & Catering, Michael Thomas, Owner
Johnny Rivers Grill & Market, Johnny Rivers, Owner
Kissimmee/Osceola County Chamber of Commerce, John Newstreet, President/CEO
Lake County Agency for Economic Prosperity, Brandon Matulka, Executive Director
C. Spa & Nail Spa, Mary Chau, Founder and CEO
Merlin Entertainment, Adrian Jones
Mosaic Hair Studio, Mike Van den Abbeel, Salon Owner
National Entrepreneur Center, Jerry Ross, Executive Director
Nelson, Mullins/Broad and Cassel, Wayne Rich, Of Council
Orange County Public Schools, Barbara Jenkins, Ed.D, Superintendent
Orlando City Soccer Club, Alex Leitao, CEO
Orlando Health, George Ralls, MD, Medical Chief Quality Officer
Orlando International Airport, Phil Brown, CEO
Orlando Magic, Alex Martins, CEO
Orlando Shakespeare Theater, Douglas Love-Ramos, President
Prospera, Augusto Sanabria, President and CEO
Rejoice in the Lord Ministries & President, African American Council of Christian Clergy, Pastor Roderick Zak, CEO
Rosen Shingle Creek, Dan Giordano, General Manager
SeaWorld Parks & Entertainment, Brad Gilmour, Vice President of Operations
Seminole County Government, Tricia Johnson, Deputy County Manager/Chief Administrator for Community Relations and Economic Development
The Mall at Millennia, Steve Jamieson, General Manager
The Trentham Santiago Group, Conrad Santiago, CFP®, MSFS, Private Wealth Advisor
The Vineyard Wine Bar & Healthy Bistro, Deborah Linden, Owner
Truist, Sandy Hostetter, Central Florida Regional President
UCF Rosen College of Hospitality Management, Youcheng Wang, Ph.D., Dean
Unicorp National Development, Chuck Whittall, President
United Safety Council, Chris Earl
Universal Orlando, Rich Costales, Executive Vice President of Resort Operations
VMD Ventures, LLC, Harold Mills, CEO
Walmart, Inc., Monesia Brown, Director of Public Affairs and Government Relations
Walt Disney World Resort, Thomas Mazloum, Senior Vice President, Resort & Transportation Operations
WaWa, Inc., Todd Souders, Senior Director Florida Operations and New Market Development
Wyndham Destinations, Frank Goeckel
YMCA of Central Florida, Dan Wilcox, President & CEO
About Orange County Government: Orange County Government strives to serve its residents and guests with integrity, honesty, fairness and professionalism. Located in Central Florida, Orange County includes 13 municipalities and is home to world-famous theme parks, one of the nation's largest convention centers and a thriving life science research park. Seven elected members make up the Board of County Commissioners, including the Mayor, who is elected countywide. For more information, please visit www.OCFL.net or go to Orange County Government's social media channels.
Back To Top