02 April, 2020
Orange County Government Public Information Officer
Email: PIO@ocfl.net
Orange County Mayor Jerry L. Demings Reminds Residents of Governor Ron DeSantis' Statewide Stay-at-Home Order | April 3, 2020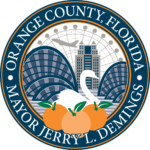 Orange County, Fla. – As our region continues to deal with the COVID-19 pandemic, Orange County Mayor Jerry L. Demings reminds residents that Governor Ron DeSantis' statewide stay-at-home order will be in effect at midnight.
Orange County will align with the governor's directive. The "Safer at Home" order supersedes all County mandates and requires all 67 counties to comply.
"It is vital that each of us continue to follow the CDC guidelines and the new order issued by Governor DeSantis.  By taking these steps, we will help reduce our residents' exposure to the virus. I urge all residents to continue to be vigilant and stay at home for the safety of family, friends and neighbors. Even if your business is deemed essential, Orange County is encouraging employers to allow employees to work from home, if possible. With a unified front, we will get through this pandemic," said Mayor Demings.
For more information, visit the Orange County's Coronavirus page.
About Orange County Government: Orange County Government strives to serve its residents and guests with integrity, honesty, fairness and professionalism. Located in Central Florida, Orange County includes 13 municipalities and is home to world-famous theme parks, one of the nation's largest convention centers and a thriving life science research park. Seven elected members make up the Board of County Commissioners, including the Mayor, who is elected countywide. For more information, please visit www.OCFL.net or go to Orange County Government's social media channels.
Back To Top