18 May, 2020
Orange County Government Public Information Officer
Email: PIO@ocfl.net
Resilience, Recovery & Rejuvenation: In Unity Virtual Town Hall Meeting | Wednesday, May 20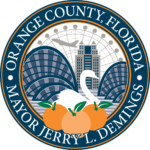 Orange County, Fla. – The challenges from COVID-19 have affected our Orange County community in various ways. In the spirit of Dr. King's mission to "persevere through adversity," Mayor Demings Orange County MLK Initiative invites you to participate in a Virtual Town Hall Meeting.
The "Resilience, Recovery & Rejuvenation:  In Unity" Virtual Town Hall Meeting has been scheduled for next Wednesday, May 20, 2020 at 6:00 p.m.  This one-hour session will allow residents to engage and interact with Mayor Jerry L. Demings, and other subject matter experts.  The below featured Guest Speakers will present coping mechanisms and other resources that will assist residents with transitioning into our "new normal".
The following outlines the program format and guest speakers:
(Estimated Time:  1 Hour)
Special Message – Orange County Jerry L. Demings
Welcome, Event Overview & Introductions  – Moderators:  Monica May & Lisa Bachman
Mental Health Guest Speaker – Candy Crawford (President/CEO, Mental Health Association of Central Florida)
Physical Health Guest Speaker – Justin Higa (Executive Director, Golden Triangle YMCA)
Financial Health Guest Speaker – Alvin Cowans (President/CEO, McCoy Federal Credit Union of Orlando)
Participant Q & A
Census Commercial w/Update – Lavon Williams (Manager, Orange County Community Action Division)
Closing – Mayor Jerry Demings and Moderators
WHO: Orange County Mayor Jerry L. Demings
Monica May & Lisa Bachman – Hosts
WHAT: Interact with experts leading discussion on mental, physical, and financial health. Participants will learn about community resources.
WHEN: Wednesday, May 20, 2020 6 – 7 p.m. Watch LIVE: www.ocfl.net/InUnity
Orange TV will carry the meeting live.  Viewing options include Channel 488 on Spectrum, Channel 9 on Comcast, 1081 CenturyLink Prism TV,  WSWF Channel 10.2 (over the air), stream live at www.ocfl.net/orangetv and you can view via the Orange TV app on ROKU in the Education category.
About Orange County Government: Orange County Government strives to serve its residents and guests with integrity, honesty, fairness and professionalism. Located in Central Florida, Orange County includes 13 municipalities and is home to world-famous theme parks, one of the nation's largest convention centers and a thriving life science research park. Seven elected members make up the Board of County Commissioners, including the Mayor, who is elected countywide. For more information, please visit www.OCFL.net or go to Orange County Government's social media channels.
Back To Top