17 July, 2020
Orange County Government Public Information Officer
Email: PIO@ocfl.net
Orange County Mayor to Convene Sustainability and Resilience Committee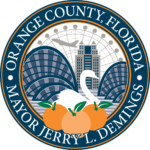 Orange County, Fla. – Orange County is enhancing its sustainability and resilience initiatives with the formation of a volunteer committee to help develop a 2030 Sustainability and Resilience Action Plan. The kick-off meeting will take place on July 24, 2020 at 9 a.m. via WebEx. The committee's expertise will assist Orange County in setting goals and planning strategies that are innovative, achievable, and impactful across six focus areas:
Buildings & Infrastructure
Mobility & Fleet
Materials management & Supply Chain
Trees & Lands
Energy & Climate Action
Water Use & Quality
In 2019, Orange County began working on a 2030 Orange County Sustainable Operations & Resilience Action Plan.  The LEED for Cities and Communities Initiative selected Orange County Government to participate in the Initiative with 20 other cities and counties across the country.
"One of my top priorities as mayor is to work in partnership with the community to create an action plan for the future," said Orange County Mayor Jerry L. Demings.
At the direction of Mayor Demings, in April 2020, Orange County's Chief Sustainability and Resilience Officer began working with a variety of county departments to form a Sustainability and Resilience Team.
This initiative will work on driving efficiency and optimizing daily operations in County assets, buildings, fleet vehicles, construction projects and infrastructure.
"A well thought-out plan of action will be key to a more aggressive sustainability agenda and establish the platform for broader community adoption of new programs," added Mayor Demings.
The Sustainability & Resilience Committeehold five virtual meetings from July until September of 2020.
Two co-chairs selected from the community will lead the meetings.
Co-Chair:  Leila Jamal is a Professional Engineer with 30 years of experience in the Consulting Engineering Industry. She is the founder and CEO of Nodarse & Associates, Inc., which merged with Terracon Consultants and NV5. She serves on the ACEC Florida Board and the UCF Corporate Affiliate Board.
Co-Chair: Byron Knibbs is the former Vice President of Emerging Technologies at the Orlando Utilities Commission spending more than 20 years of leading emerging technologies research, renewable energy and conservation programs, risk, supply chain management, fleet and facilities. He has served on the board of the American Red Cross and Heart of Florida United Way and the County's Sustainability Advisory Board.
Staff Contact: Jeff Benavides, Orange County Chief Sustainability & Resilience Officer | 407-836-7370| jeff.benavides@ocfl.net
Meeting Resources: For more meeting resources including presentations, meeting agendas and other documents are available through Box: https://ocfl.box.com/s/5go1plqf9imb57uobv9m7w2q4eivv1ck.
To Join the Meeting:  Click WebEx Link Below to Join:
Orange County Sustainability Meeting Scheduled July 24, 2020 at 9:00 AM
https://ocfl2.webex.com/ocfl2/onstage/g.php?MTID=edefe6d6c85d9e3d2243d8b7733d9984.
All meetings are open to the public and meeting dates and times are available on the County Calendar at http://www.ocfl.net/Home/CountyCalendar.aspx?m=dtlvw&d=764484
About Orange County Government: Orange County Government strives to serve its residents and guests with integrity, honesty, fairness and professionalism. Located in Central Florida, Orange County includes 13 municipalities and is home to world-famous theme parks, one of the nation's largest convention centers and a thriving life science research park. Seven elected members make up the Board of County Commissioners, including the Mayor, who is elected countywide. For more information, please visit www.OCFL.net or go to Orange County Government's social media channels.
Back To Top