05 August, 2020
Orange County Government Public Information Officer
Email: PIO@ocfl.net
Domestic Violence Commission Meeting Set for August 7, 2020 at 4:30 p.m.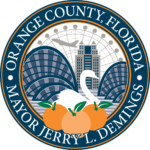 WHAT: Orange County Mayor Jerry L. Demings will reconvene the Domestic Violence Commission for the first time since the COVID-19 pandemic. This virtual meeting will take place on August 7, 2020 at 4:30 p.m.  The end goal of the Commission is to provide recommendations that can assist in tackling domestic violence in our community.
TOPICS:
Domestic Violence data and recent statistics
Orange County Legislative Update
COVID-19 Update
WHO: The Honorable Alice Blackwell, Ninth Judicial Circuit Judge and Mr. Dick Batchelor along with judges, the state attorney and public defender from the Ninth Judicial Circuit help chair the Commission. Law enforcement, service providers, community leaders as well as domestic violence survivors are on the Commission.
SPEAKERS:
Dr. Raul Pino, Health Officer, Florida Department of Health
Kelley Teague, Legislative Affairs Director, Orange County Government
Captain Mary Huggins, Orange County Sheriff's Office
Chief Deputy Jose Velez, Orlando Police Department
Download the meeting agenda and list of committee members.
To schedule an interview, email PIO@ocfl.net
WHEN: August 7, 2020 at 4:30 p.m.
WHERE: All Domestic Violence Commission meetings will be available through Orange TV. A link to the meeting is located on the Orange County Government's website. For more information visit www.ocfl.net/DVC.
If using WebEx the public/media can watch by following this link: 
https://ocfl.webex.com/ocfl/onstage/g.php?MTID=e7b62620eb1d436e15aa26e857a26187c
About Orange County Government: Orange County Government strives to serve its residents and guests with integrity, honesty, fairness and professionalism. Located in Central Florida, Orange County includes 13 municipalities and is home to world-famous theme parks, one of the nation's largest convention centers and a thriving life science research park. Seven elected members make up the Board of County Commissioners, including the Mayor, who is elected countywide. For more information, please visit www.OCFL.net or go to Orange County Government's social media channels.
Back To Top