12 November, 2020
Debbie Sponsler, Communications Section Manager
407-254-9802/Cell 321-231-8787
Debbie.Sponsler@ocfl.net

Orange County Utilities Honored with Multiple Water Conservation and Reuse Awards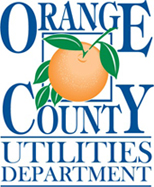 Orange County, Fla. – Orange County Utilities' water conservation and reuse programs were recently recognized by a distinguished environmental agency and a global educational organization.
The U.S. Environmental Protection Agency (EPA) named Orange County Utilities as a 2020 WaterSense Partner of the Year for demonstrating its commitment to water conservation by providing and promoting WaterSense-labeled products and fixtures independently certified to use less water and perform efficiently.
WaterSense, a voluntary partnership program sponsored by the EPA, is both a label for water-efficient products and a resource for helping consumers learn ways to save water. In 2019, WaterSense-labeled products, homes and programs helped consumers and businesses save 871 billion gallons of water, along with the energy used to heat that water and money on utility bills.
"Orange County Utilities continues to promote conservation of drinking water for our residents and visitors," said Jacqueline Torbert, manager of the Orange County Utilities Water Division. "Conservation ensures that this most precious resource is available now and in the future. We're extremely excited to be recognized for our efforts to fulfill this important responsibility."
In addition to the EPA award, Orange County Utilities was recognized by the Water Environment Federation (along with the National Association of Clean Water Agencies, the Water Research Foundation and the WateReuse Association) as a Utility of the Future Today honoree for its water reuse program. It was one of 65 utilities in the nation praised for transformational work in community engagement, watershed stewardship and recovery of resources such as water, energy and nutrients.
"We're honored to be recognized by the Water Environment Federation and its partners for embracing innovative ways to better serve our community with our comprehensive program that beneficially reuses 100% of the wastewater," said Mike Hudkins, manager of the Orange County Utilities Water Reclamation Division.
Orange County Utilities currently operates three regional water reclamation facilities that treat and reuse 60 million gallons per day of wastewater. Its extensive reuse system provides reclaimed water for agricultural, commercial and residential irrigation; aquifer recharge; wetlands and cooling water.
About Orange County Government: Orange County Government strives to serve its residents and guests with integrity, honesty, fairness and professionalism. Located in Central Florida, Orange County includes 13 municipalities and is home to world-famous theme parks, one of the nation's largest convention centers and a thriving life science research park. Seven elected members make up the Board of County Commissioners, including the Mayor, who is elected countywide. For more information, please visit www.OCFL.net or go to Orange County Government's social media channels.
Back To Top