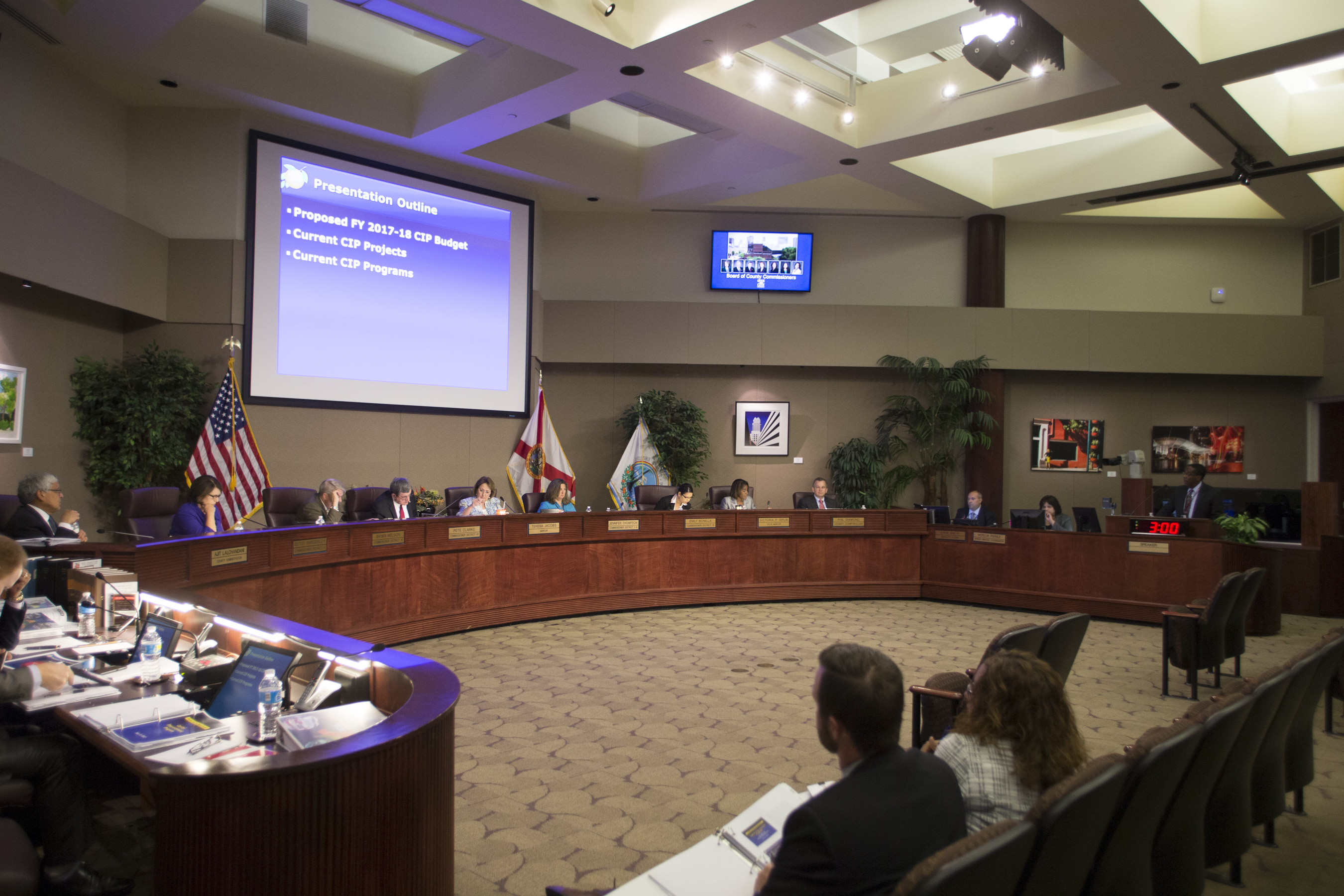 Mayor Teresa Jacobs Proposes $3.96 Billion Fiscal Year 2017-2018 Budget at Orange County's Board of County Commissioners July Work Session
Orange County Mayor Teresa Jacobs has proposed a $3.96 billion Fiscal Year (FY) 2017-2018 budget for Orange County that is balanced and does not include a tax increase. This marks the 28th consecutive year without a countywide millage rate increase.
The proposed budget, brought to the Orange County Board of County Commissioners (BCC) on July 17-18 at the Budget Work Sessions, continues to invest in the resources necessary to provide future generations with a sustainable place to make Orange County their Home for Life. "We continue to have a thriving local economy with a declining unemployment rate, increases in development, and record-setting tourism," Mayor Jacobs said during her opening remarks at the first Budget Work Session. "This budget once again puts forward a spending plan that keeps health, safety and quality of life at the forefront."
A Work Session is an in-depth and larger policy discussion for the BCC. Orange County staff explains the issue to be discussed based on research and elicits feedback from the Board.
The proposed budget continues to fund new and expanded roadways, fire stations, parks and pedestrian safety improvements. Recognizing that there are still challenges ahead, the spending plan sets aside funds to address some of the most pressing issues.
"Public safety remains Orange County's number one priority, as tragic events like last year's Pulse shooting are reminders of our sacrosanct duty to protect our citizens and visitors, including our first responders," Mayor Jacobs stated in her annual budget letter. "The past year has been difficult, but the strength and resilience exhibited by our community has been nothing short of extraordinary. To maintain Orange County's commitment to keeping our residents and visitors safe, this budget continues to increase resources for the Orange County Sheriff's Office."
Funding has been included for 42 new deputies and the tools and equipment needed to do their jobs effectively. This is in addition to the 20 new deputies approved in the current fiscal year.
Additionally, funding is included in this budget to help fight the opioid epidemic sweeping the nation. In 2015, Mayor Jacobs convened the Orange County Heroin Task Force, and since then has implemented a number of Task Force recommendations to fight this frightening scourge of addiction. In this budget, Orange County takes the step of establishing a community program to administer Vivitrol — a groundbreaking non-narcotic drug which can help reduce an addict's cravings — and provide an opportunity to quit heroin for good.
In an effort to address the decreasing availability of affordable housing, a negative byproduct of the booming economy, Orange County is working with regional counterparts to develop policy opportunities to provide more affordable housing. Orange County continues to allocate funds to address this issue.
"From the continuation of our partnership with Habitat for Humanity in low-income neighborhoods to our continued partnership with Wayne M. Densch Charities, Inc. to expanded housing options for at-risk homeless families, we are working to provide more affordable places for people to call home," Mayor Jacobs' budget letter stated.
The proposed budget continues to fund Mayor Jacobs' Invest in Our Home for Life initiative for the third year, as well as renovations to the Orange County Convention Center.
Two public hearings on the proposed budget will take place on Sept. 7 and 21 at 5:01 p.m. in the BCC chambers. The approved budget will be implemented on Oct. 1. 2017. To view Orange County's proposed FY 2017-2018 Budget Book in its entirety, please visit the County's website.
Photo Caption: Orange County Mayor Teresa Jacobs and the Board of County Commissioners discussed the proposed fiscal year 2017-2018 budget during a two-day work session in July.