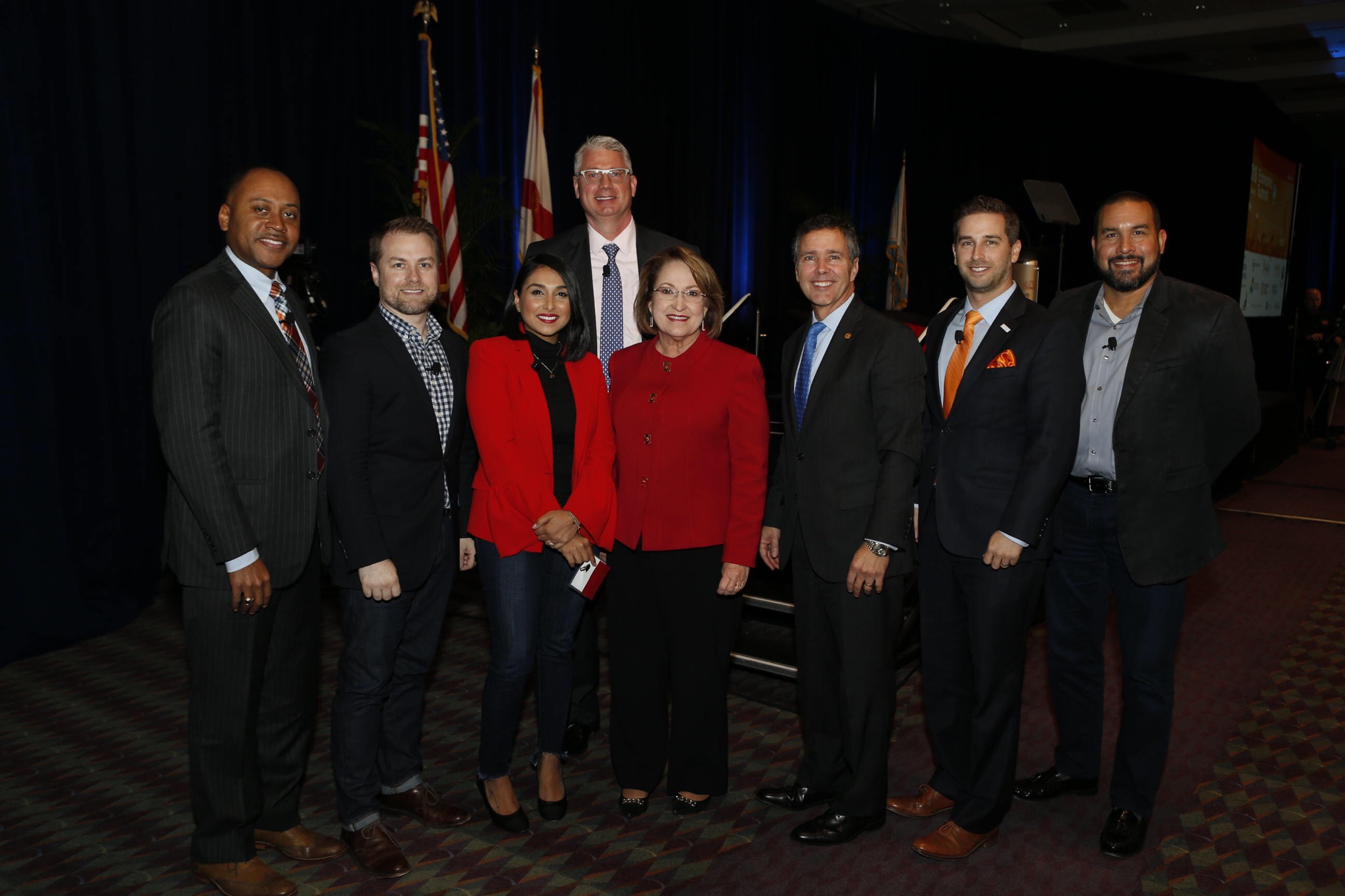 Orange County Economic Summit Highlights Job Growth and Booming Tech Entrepreneurship
Orange County Mayor Teresa Jacobs welcomed a capacity crowd of more than 600 citizens to the 2018 Economic Summit at the Orange County Convention Center on Friday, Jan. 19.
Now in its sixth year, the Economic Summit is hosted annually by Mayor Jacobs and provides a barometer on Orange County's growing business sectors and regional economic successes. The highly anticipated annual local and state economic forecast, issued by nationally renowned economist Sean Snaith, Ph.D., director of the University of Central Florida's (UCF) Institute for Economic Competitiveness, is the central highlight of the event. Snaith said the state of Orange County's economy is strong and robust.
"With a robust population and stronger job growth than other regions in the nation, the Orlando Metropolitan Statistical Area is well poised for continued economic growth," Snaith said.
The region's flourishing economy and business infrastructure, in addition to the region's diverse and talented workforce, continues to aid Orange County's upward trajectory of economic growth and progress.
"By working together, we're committed to creating a business infrastructure and economic climate that supports job creation, a flourishing creative class and trained workforce, and that provides opportunity for all," Mayor Jacobs said in her opening remarks.
The Summit also featured a panel focused on funding and growing Central Florida's tech sector, featuring partners from the Orlando Economic Partnership, AceApplications, Clean the World, Edukate and Fattmerchant. The panel was moderated by Tim Giuliani, president and CEO of the Orlando Economic Partnership.
Panelists included Courtney Powell, president  and owner of AceApplications; Shawn Seipler, CEO of Clean the World; Chris Whitlow, CEO of Edukate, Inc. and Suneera Madhani, co-founder and CEO of Fattmerchant.
Panelists provided an overview of the County's growing technology ecosystem and highlighted the region's burgeoning innovations in tech entrepreneurship.
"The spirit of embracing our diversity and our collaboration allows us to compete with bigger cities in the U.S."  Giuliani said.
The Mayor's annual Economic Summit was launched in 2013 following a series of nine economic and job summits designed to support the business community. Those meetings, held in 2011 and 2012, focused on key geographic regions and industries such as life sciences, clean technology and international trade.
Following the 2018 Economic Summit, Orange County hosted the third Florida TechMatch, an invitation-only event that gives local technology companies the chance to build relationships with national industry leaders.
More than 80 companies are registered for TechMatch ranging from start-ups to large enterprise organizations like Microsoft, Apple and Universal Studios.
Photo Caption: Orange County Mayor Teresa Jacobs joined distinguished panelists, economists and guests at the
Orange County Convention Center for the 2018 Economic Summit on Friday, Jan. 19.
2018 Economic Summit
10 Photos