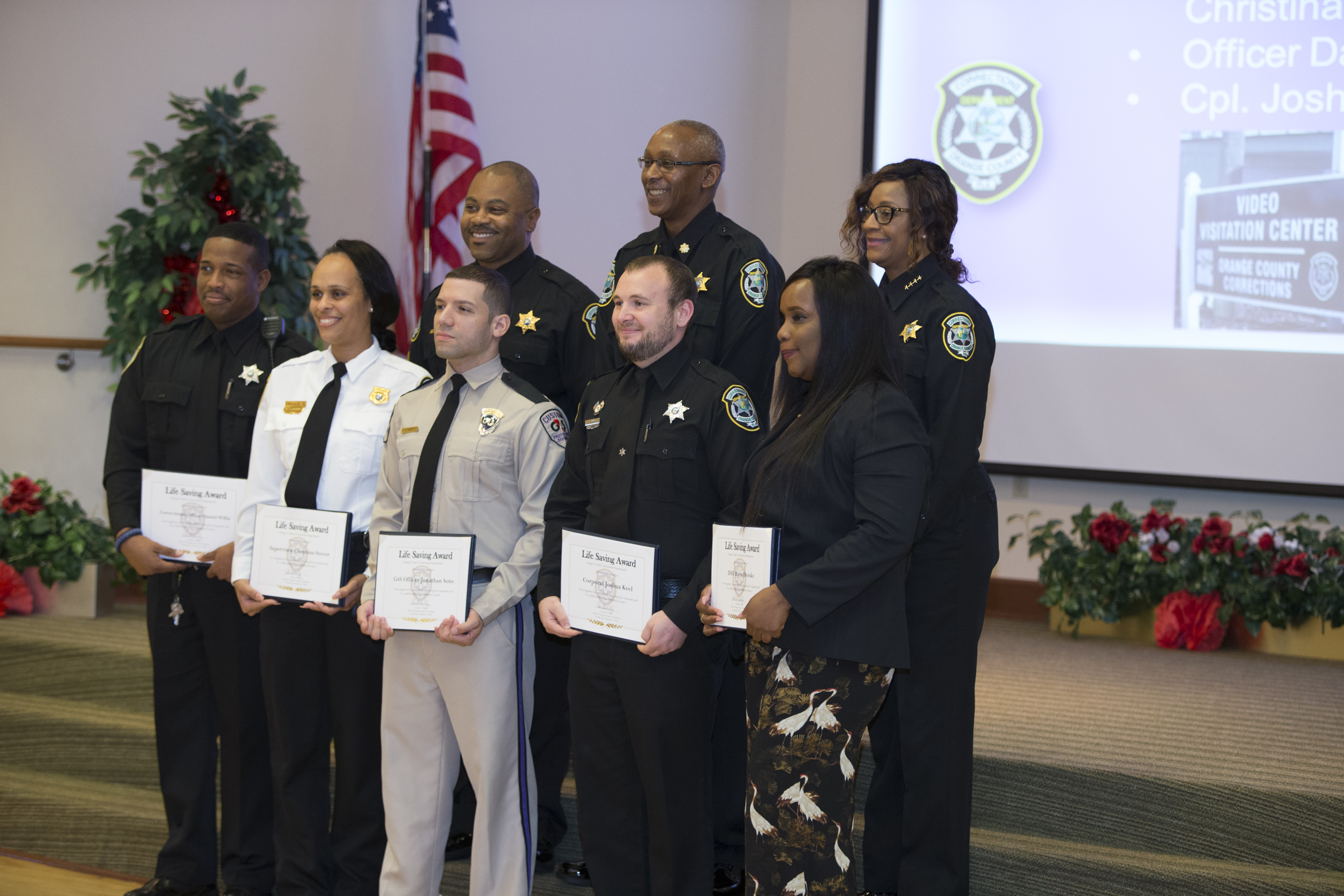 Orange County Corrections Honors Outstanding Personnel
The Orange County Corrections Department (OCCD) celebrated its semi-annual Awards Ceremony on Feb. 9, 2018 at the Renaissance Community Senior Center in East Orlando. Dozens of civilian officers and certified staff members were recognized for their years of service and promotions while some were honored on their retirement. The semi-annual event has grown into a tradition that includes loved ones and family in the celebration.
Employees were recognized for acts of excellence, safety, community and outstanding service. Additionally, the Orange County Corrections Department presented a Life Saving Award to a team of employees who rescued a child left unattended in a hot vehicle on jail property. The rescue, on Oct. 8, 2017, took place when temperatures climbed into the nineties, with a heat index of 110 degrees.
Jonathan Soto, an officer with G4S Secure Solutions, discovered the child unattended in the locked vehicle. Soto is credited with immediately notifying Supervisor Christina Stover who, along with several staff members, responded to the vehicle to assist. Detention Service Officer Ryen Brooks was able to crack open the window to unlock the door and release the child who was drenched in sweat and crying uncontrollably. The child was evaluated by Orange County Fire Rescue and released.
The mother, who allegedly left the child to participate in visitation, was arrested by the Orange County Sheriff's Office and charged with felony child neglect.
"We recognize that his quick thinking and jumping into action immediately were pivotal in saving this child's life," said Steven Billips, general manager at Greater Orlando Area G4S Secure Solutions.
G4S Secure Solutions provides contracted security support to the Orange County Jail.
The efforts to preserve public safety and help keep this community safe often times go unnoticed, with so much of the work of correctional officers and civilian staff taking place behind the confines of a secure perimeter, outside what the general public may never see or know. The semi-annual awards are a means to ensure that these actions are publically recognized.
"Thank you for your service. Thank you for all you do," OCCD Chief Cornita A. Riley said at the ceremony.
Chief Riley added that all the employees recognized at the awards ceremony are making a positive difference in public safety, and in providing proper care, custody and control of those incarcerated in the jail or under supervision through the Community Corrections Division.
The event opened with a moment of silence in memory of the late Officer Louis Wigfall who experienced a medical emergency last December and died. The next awards ceremony is scheduled for August.
Photo Caption: The Orange County Corrections Department recently celebrated its semi-annual Awards Ceremony at the Renaissance Community Senior Center in East Orlando.