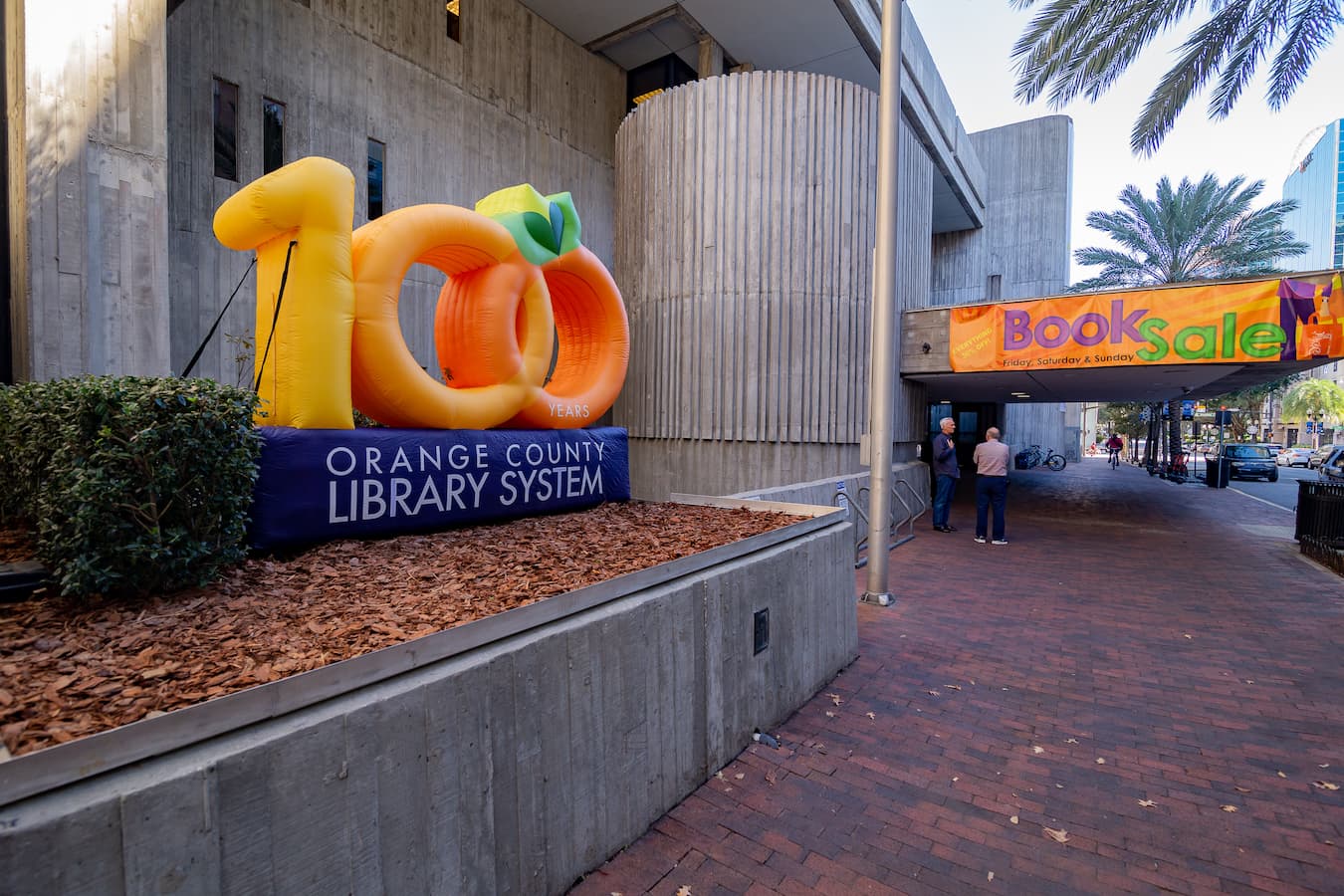 Orange County Library System Celebrates 100 Years of Community Service
This year, the Orange County Library System (OCLS) will be celebrating 100 years of service to the community. Throughout 2023, it will be hosting special events and programs that illuminate its history and celebrate its present, including music events, fiber arts projects, virtual reality experiences and signature author series.
On November 8, 1923, the Albertson Public Library opened its doors for the first time on the corner of Rosalind and Central (where the Orlando Public Library is now), and over the years, that single library building evolved to become the library system in operation today.
"A lot has changed in the past 100 years, but the mission of the library, at its heart, has always been the same — to support and enrich the community," said Steve Powell, OCLS Director/CEO.
Today, OCLS operates 15 locations across the County and is working with the City of Orlando and Orange County to build two new branches — one in Horizon West and one in Lake Nona. Its mission is to add to the quality of life in the community by creating a learning environment and experiences that foster personal growth and development to more than four million visitors annually.
OCLS has also incorporated modern technology, offering classes, hosting events and providing many services to meet the needs of all patrons. Books are available in print, CD audiobooks, and downloadable formats compatible with mobile devices. Many items can be delivered right to your home, free of charge, using MAYL (Materials Access from Your Library).
Patrons can check out new and classic DVDs, music CDs, and stream music and movies for free via hoopla. RBdigital Magazines provides free access to more than 250 popular e-magazine titles all from the comfort of your home via tablet, smartphone, Kindle or other device. Multiple online databases, apps, streaming video and Wi-Fi access also are available.
"One future focus we have is accessibility," explained Powell. "We've made some progress toward reducing barriers to service by creating new types of cards for kids living in group homes and eliminating fines for overdue materials, and we're lending Wi-Fi hotspots to people who don't have access to the Internet, making it possible for them to access digital library materials, as well as anything else they might need on the web."
Numerous technology classes, along with author signings, special events and programs throughout the year are all on the OCLS service menu, and it also is involved in several programs and partnerships to foster early reading success among elementary students. The Orlando Public Library also has an area created specifically for tweens and teens (ages 11-18) called "Club Central," where kids can study, read or participate in teen-friendly events.
"The single biggest thing people can do to support the library is use it," asserted Powell. "Get a library card, check out a book and have it delivered to your house, download the Libby app and listen to an audiobook, log into our website and use a digital resource like a language-learning database or an investment-research tool. The library is easy to use, it's free for cardholders, and we want you to take advantage of what we have to offer."
To learn more about OCLS services and special 100 Year Celebration events, go to the Orange County Library System or call 407-835-7323.