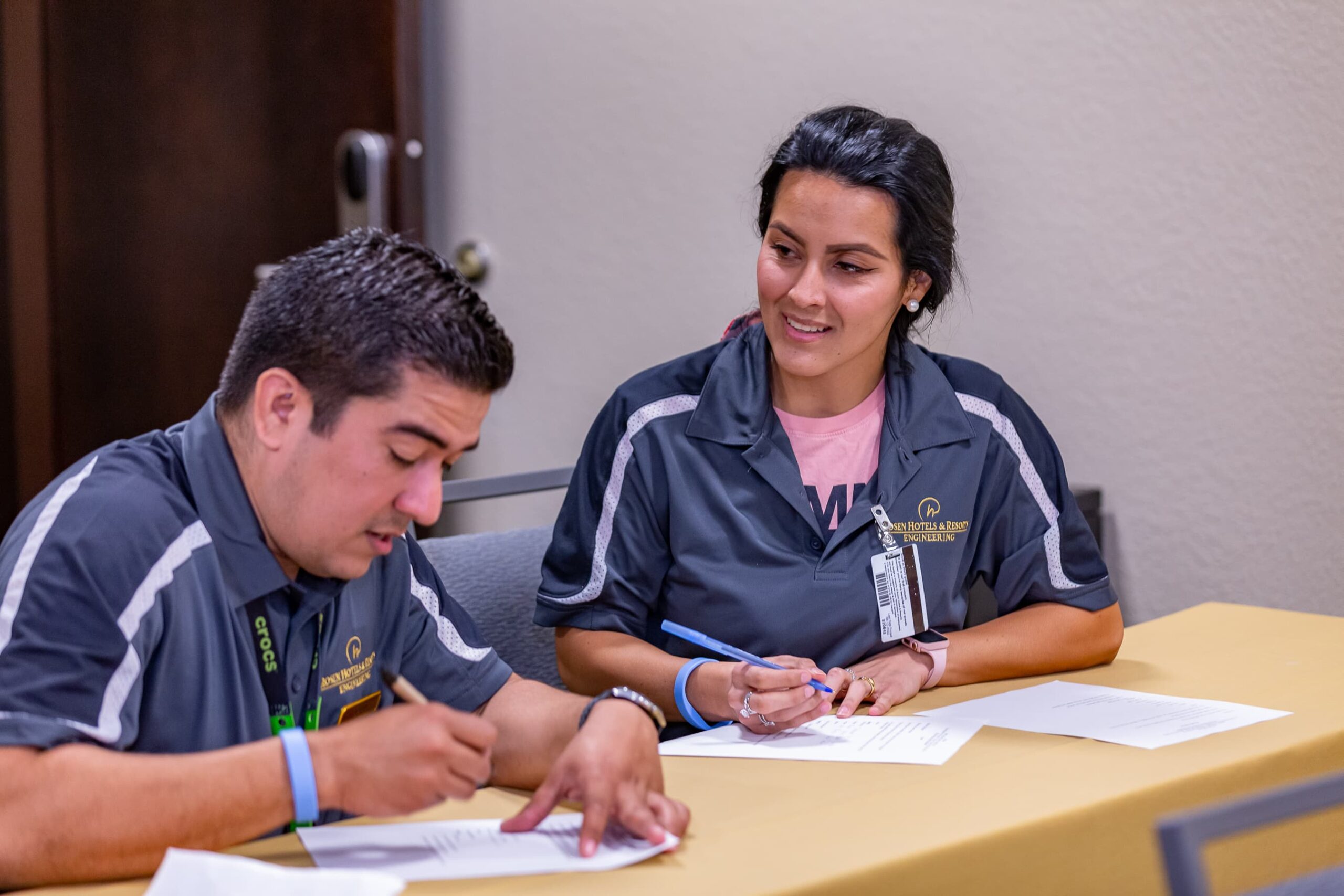 Orange County Leads the Way in Creating "EPIC" ESOL Pilot for International Drive Hotel Employees
Sadya Pierre has a tough job. For the last five years, she has worked as a housekeeper at the Rosen Centre Hotel on International Drive. Originally from Haiti, Pierre's limited language proficiency led to challenges communicating with guests at the resort, as well as with simply living in a largely English-speaking community.
Now she's tackling this challenge head-on and improving her mastery of the English language through EPIC (English Program for workers in the International Drive Corridor), a pilot program led by Orange County Government and delivered by UCF Global. When Rosen Hotels & Resorts offered the class to Pierre and her co-workers, she jumped at the chance to participate and has now completed the first phase of the eight-week program, increasing her ability to communicate.
To help Sadya Pierre and others like her, Orange County Government launched EPIC, a program for English language instruction tailored to the needs of working adults in the I-Drive corridor in September 2022. Orange County's I-Drive Community Redevelopment Act (CRA) Advisory Group that guides CRA strategy, had recommended an investment in English language instruction to support professional growth and retention.
Through this unique model, hotel and resort properties within the International Drive CRA were invited to extend the opportunity to participate in three cycles of ESOL classes to their employees. Rosen Hotels & Resorts accepted the offer and nearly 60 employees signed up, with some 100 more expressing interest. For their part, Rosen Hotels & Resorts provided space for the classes and paid their employees to attend as part of their workday. The classes were held twice a week for two hours.
"We were pleased that leadership from Rosen Hotels & Resorts stepped up to provide this innovative programming opportunity for their employees," said Orange County Mayor Jerry L. Demings. "It is rewarding to see these lifelong learners seeking to improve their ability to communicate and their eagerness to pursue professional growth in the heart of our tourism corridor."
"I love my associates," said Harris Rosen, President and COO of Rosen Hotels & Resorts. "And anything that I can do to help them improve their lives, whether it be learning a second language or a new skill, I will enthusiastically support. In fact, at Rosen Hotels & Resorts, we make sure that our associates are able to attend the classes during their scheduled workday. We do this so that they do not have to worry about losing any pay while attending the classes."
This week, the second of three phases of instruction will begin. Rosen Hotels & Resorts will extend the same benefits to the students by providing space and paying them to attend. UCF Global has set a capacity of 75 students so the program has room to grow as more resort employees show interest, as well as to evolve to continue meeting upskill demands for the area's workforce.
According to Jennifer Haddad, M.Ed., Program Director, UCF Global Engagement, nearly 64% of the participants in this pilot program indicated better work opportunities as their main interest in the program. "UCF is dedicated to promoting broad-based prosperity throughout our community, and we're pleased to help participants increase their earning potential while giving employers an incentive that can help to retain their employees," Haddad said. "As a result, we know that the language instruction is a step toward the goal of supporting higher earning potential for workers and value-added retention for employers."
UCF is collecting data on participant aspirations and challenges, and employer operational challenges, which will help the County design and implement a sustainable ESOL program once the EPIC pilot is complete. As for expansion options, the opportunity to make this program available to employees at other resort properties within the International Drive CRA area is still available.
"We would love to see additional hotels and resort properties offer these classes to their employees, and we hope more will get involved," added Demings. "These kinds of public-private partnerships strengthen our community as a whole and can be valuable in providing upskill opportunities to our region's talent force."
For more information about this program, visit: www.ocfl.net/EPICPilotProgram.