13 December, 2018
Doreen Overstreet, Senior Public Information Officer, Orange County Government
Email: Doreen.Overstreet@ocfl.net
Phone: 407-836-5301
Orange County Mayor Jerry Demings Appoints Longtime Top FDLE Special Agent Danny Banks as Deputy County Administrator of Public Safety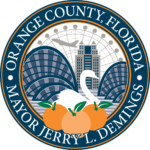 Orange County, Fla. (Dec. 13, 2018) – Orange County Mayor Jerry L. Demings today announced the appointment of Florida Department of Law Enforcement (FDLE) Special Agent in Charge Danny Banks as the Deputy County Administrator of Public Safety at Orange County Government.
The Orlando native and longtime public safety expert has been employed at FDLE since 2000 and has 25 years of public safety experience. Since 2012, he has served as the Special Agent in Charge at the Orlando Regional Operations Center, where he supervises nine counties in the region and oversees all FDLE's criminal investigations.
During his 18-year tenure with FDLE, he served in various leadership roles, including those in special agent investigations for narcotics, money laundering, violent crime and domestic security. He has received numerous accolades at FDLE, including Excellence in Leadership, State Law Enforcement Officer of the Year and Special Agent of the Year. Prior to joining FDLE, Banks served at the Orange County Sheriff's Office for seven years in various roles. Banks also earned a B.S. at Florida State University.
"I am delighted to have the powerhouse talent of public safety on board that Danny Banks brings to Orange County Government," said Mayor Demings. "He will be a tremendous asset to our organization as we focus on enhancing public safety to better serve the needs of our growing population in the County."
Mayor Demings also served as Orange County Public Safety Director in 2002 through 2008.
In Banks' new role, he will oversee both the Orange County Fire Rescue Department and Corrections Department. Fire Rescue has a budget of more than $224 million, employs 1,325 individuals and responds to more than 350 calls per day. Orange County Corrections is the fifth-largest jail in Florida with an annual budget of more than $166 million, with more than 1,700 employees.
Banks is slated to begin his new position at Orange County Government in March 2019. His appointment will be confirmed on the consent agenda at the Dec. 18, 2018 Orange County Board of County Commissioners meeting.
About Orange County Government: Orange County Government strives to serve its residents and guests with integrity, honesty, fairness and professionalism. Located in Central Florida, Orange County includes 13 municipalities and is home to world-famous theme parks, one of the nation's largest convention centers and a thriving life science research park. Seven elected members make up the Board of County Commissioners, including the Mayor, who is elected countywide. For more information, please visit www.OCFL.net or go to Orange County Government's social media channels.
Back To Top