29 September, 2023
Media Contact: Darrell.Moody2@ocfl.net
Public Relations & Outreach Specialist
Orange County Public Works
Orange County Updating Floodplain Management Plan
Seeking Public Input, VIRTUAL Public Meeting Planned for November 2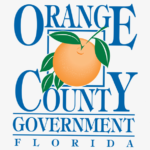 Orange County, Fla. – Orange County is in the process of updating its Floodplain Management Plan.  As part of the planning process, Public Works will host a VIRTUAL public meeting on November 2, 2023, at 5:30 p.m.
Sign up HERE to request online access to the meeting. The draft plan will be presented for review and comment. The public is encouraged to provide input on mitigation strategies that the County can implement to protect people and property from flood impacts.
Orange County's Floodplain Management Plan (FMP) was last updated in 2017.  The FMP is used to address flood hazard risks and vulnerabilities and to identify achievable mitigation actions to make our community safer and more resilient to flooding.
This plan assesses local capabilities to implement flood mitigation projects. It identifies a wide range of mitigation actions that the County can pursue to reduce flood risk and protect the people and property of Orange County.  The plan also supports the County's Community Rating System participation, which provides flood insurance policyholders in Orange County with a discount on their insurance premiums.
About Orange County Government: Orange County Government strives to serve its residents and guests with integrity, honesty, fairness and professionalism. Located in Central Florida, Orange County includes 13 municipalities and is home to world-famous theme parks, one of the nation's largest convention centers and a thriving life science research park. Seven elected members make up the Board of County Commissioners, including the Mayor, who is elected countywide. For more information, please visit www.OCFL.net or go to Orange County Government's social media channels.
Back To Top