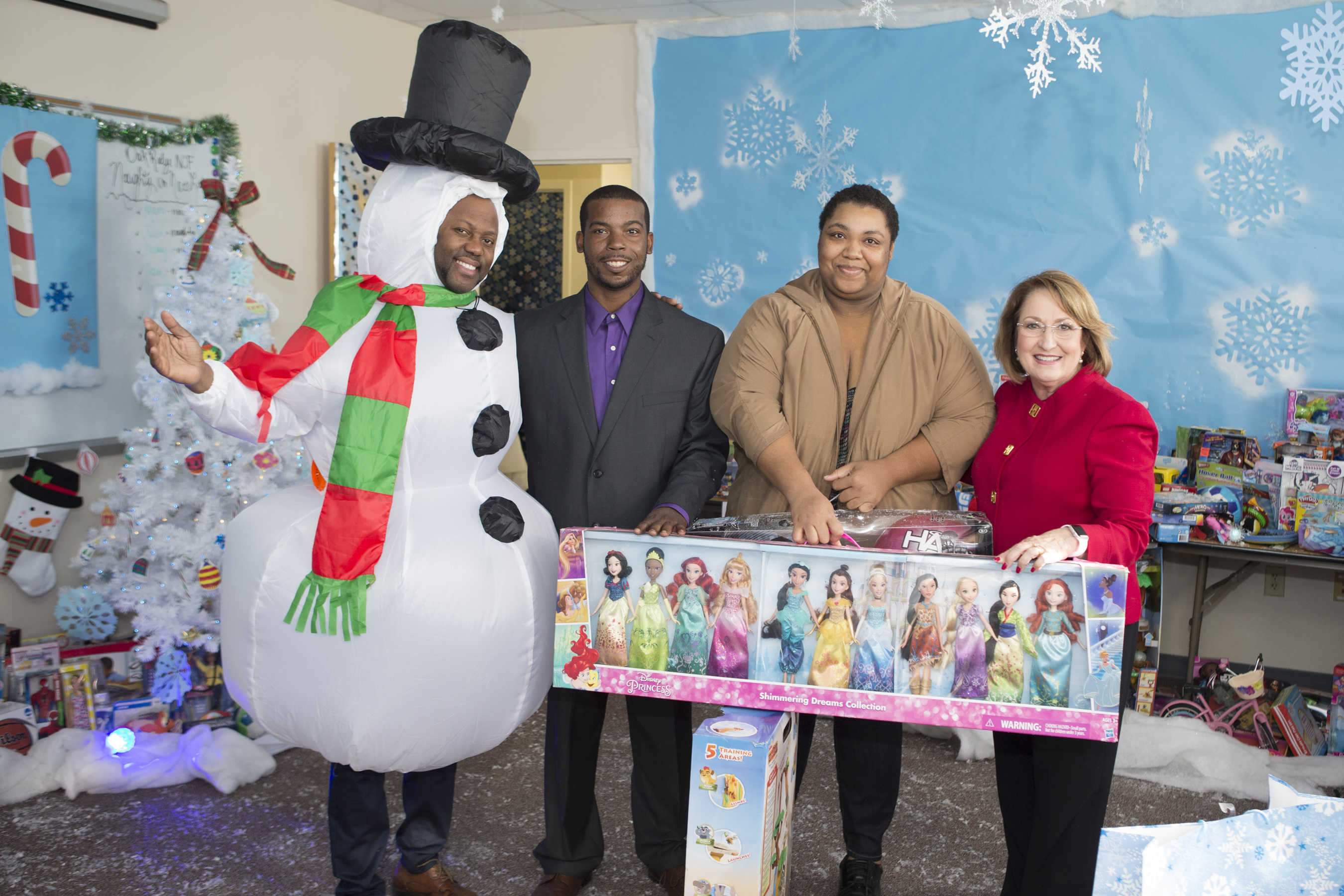 Mayor Teresa Jacobs' Holiday Heroes Toy Drive Brings Joy to Orange County
Orange County Mayor Teresa Jacobs welcomed four families to the Oak Ridge Neighborhood Center for Families (NCF) on Dec. 18 for her annual Holiday Heroes Toy Drive shopping event. Mayor Jacobs, along with NCF staff, assisted parents to select the perfect gifts for their children, in keeping with Orange County's philosophy of neighbors helping neighbors.
The center transformed into a Winter Wonderland holiday shopping experience with several tables and shelves filled with a variety of toys, games and accessories. The community donations are a result of Mayor Jacobs' 2017 Holiday Heroes Toy Drive.
Now in its seventh year, Orange County employees, volunteers and the extended community have contributed greatly to the success the Toy Drive, that brings joy to thousands of children and families. This year, Orange County employees and local residents generously donated 6,320 gift items. Children up to 18 years of age received toys and other gifts distributed through several community organizations, including Orange County NCFs, Orange County Public Schools' Homeless Program, Wraparound Orange and United Against Poverty, formerly known as the Community Food and Outreach Center and Toys for Tots.
"Since we started the Toy Drive in 2011, more than 35,000 toys have been given to local children and families in need," said Orange County Mayor Teresa Jacobs. "I couldn't be more proud of how our employees and community have come together in support of Orange County's 'Holiday Heroes' tradition.  These toys will help ensure that our families in need are still able to make the holiday season special for their children."
Along with toys, each family received a donation box filled with food for the holidays.
"This is such a blessing. Thank you to everyone who made this possible," one parent said. "I can hardly wait to see my children's faces when they see their gifts this year."
The NCF is a community-based collaboration of area public schools, government agencies, churches, grassroots organizations and nonprofit service providers that offer friendly assistance to the children and families of Orange County. NCF service providers, identify local families who have the greatest need, usually refer the families who participate in the annual toy-shopping event. All 13 Neighborhood Centers in Orange County hosted shopping events for families in their areas.
Featured Photo: Orange County Mayor Teresa Jacobs helps parents select gifts during the annual Holiday Heroes Toy Drive Shopping event.

2017 Neighborhood Center for Families Shopping Event
20 Photos
Related Articles