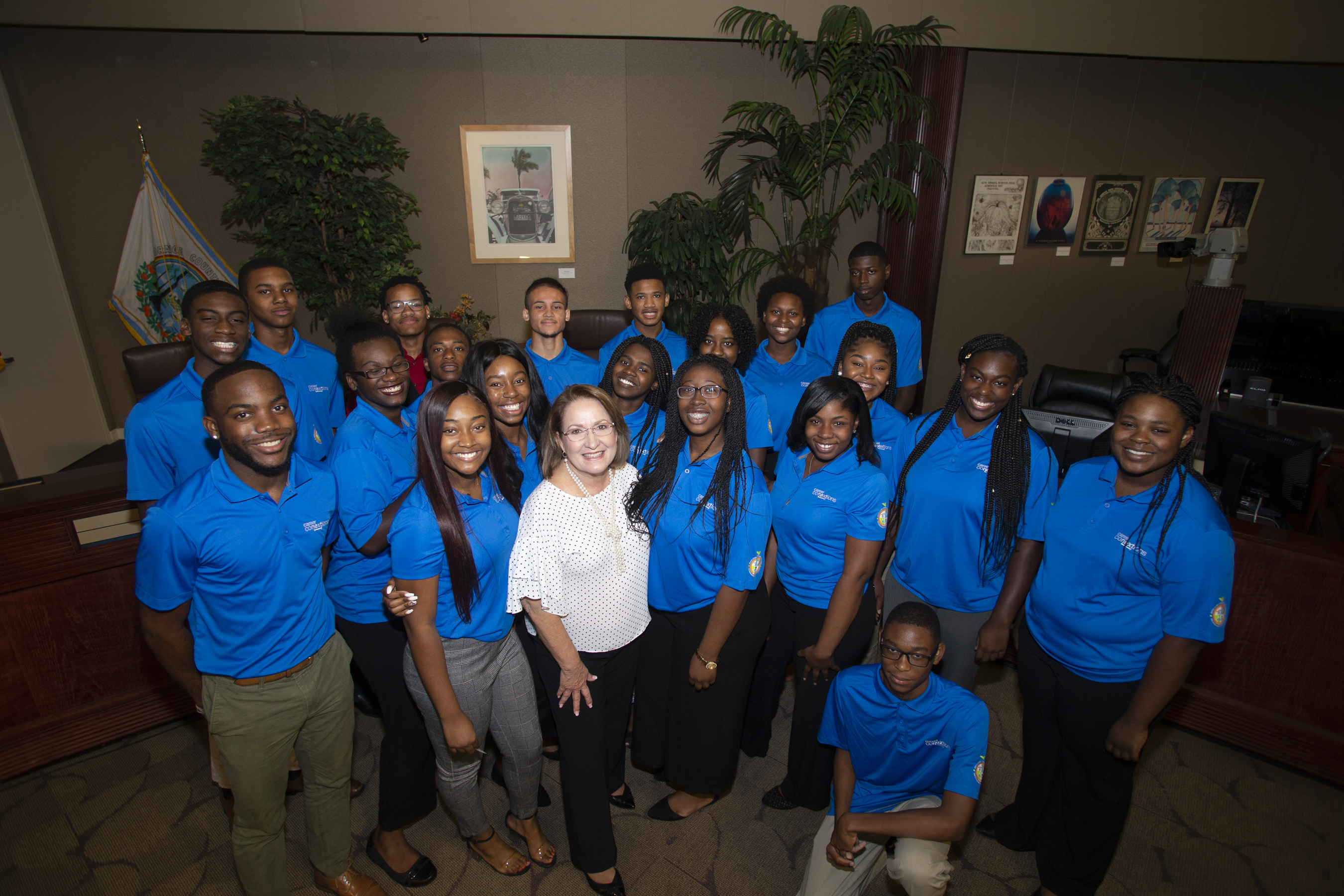 Orange County Mayor Teresa Jacobs' High School Internship Program Introduces Students to Orange County's Growing Vocational Workforce
Orange County Mayor Teresa Jacobs hosted nearly 30 students from across Orange County for a special graduation ceremony at the Board of County Commissioners (BCC) Chambers on Aug. 8, 2018. This group of high school juniors and seniors represented the inaugural class of Mayor Jacobs' Leadership, Employment and Development Success Program (OCFL LEADS).
The OCFL LEADS Program, a partnership with Orange County's Community Action Division and Career Source Central Florida, offers area high school students the opportunity to engage first-hand with Orange County's growing vocational workforce, introducing them to a network of talented technical professionals.
During Mayor Jacobs' remarks to the students, she encouraged them to work towards their passion and demonstrated the value of hard work.
"I am so proud of each of you for taking the initiative to be a part of OCFL LEADS, and for seeing it through to the end, " Mayor Jacobs said. "I encourage you to never stop learning and seeking new opportunities to learn, both professionally and personally. It's what will make you stand out among others and will also push you forward in whatever career path you choose."
Students were offered internships in organizations representing a diverse group of industries including health, professional services, digital media, broadcasting and more.
"This program is a great way for students to gain the essential experience needed to join the workforce," Community Action Manager Lavon Williams said. "Hearing from the students and employers, the program was a real success. I am excited to see how we can grow and further help these students on the way to finding a career path right for them."
OCFL LEADS was created in spring 2018 as part of Mayor Jacobs' focus on local youth and student success. The program matched students with paid summer internships, introducing them to the region's diverse economy and providing them with the opportunity to gain valuable, transferable work place experience and interpersonal skills for their futures.
Similarly, Mayor Jacobs, the BCC and the Orange County Citizens' Commission for Children have supported the Professional Opportunities Program for Students, Inc. (POPS). The program offers students a summer internship within Orange County Government in Health and Family Services, Public Works, Administrative Services, Fire Rescue, Community Action, Neighborhood Preservation & Revitalization and Environmental Protection. This is the fifth summer that Orange County Government has coordinated POPS.
Mayor Jacobs also established the Youth Leadership Conference initiative upon taking office in 2011. The conference aims to connect students with their local government by hosting a series of workshops ranging from zoning and code enforcement to the electoral process. The workshops provide an opportunity for students to strengthen their leadership skills, learn how government functions and how to participate in community initiatives. More than 1,400 students have participated in the program since its inception.
Additionally, in an effort to recognize student excellence in community service and volunteerism, Mayor Jacobs created the Charles T. Smith Youth Community Service Award in 2014. The award is presented to a high school senior who has shown dedication toward making a positive impact in their community through service and volunteerism. The award honors the life and memory of former Orange County Ombudsman Charles "Chase" Smith, who devoted his life to government, public service and improving his community.
Learn more about Mayor Jacobs' initiatives by visiting www.ocfl.net/MayorJacobs.
Photo Caption: Orange County Mayor Teresa Jacobs and OCFL LEADS students celebrate their graduation from the program at the Board of County Commissioners Chambers on Aug. 8, 2018.