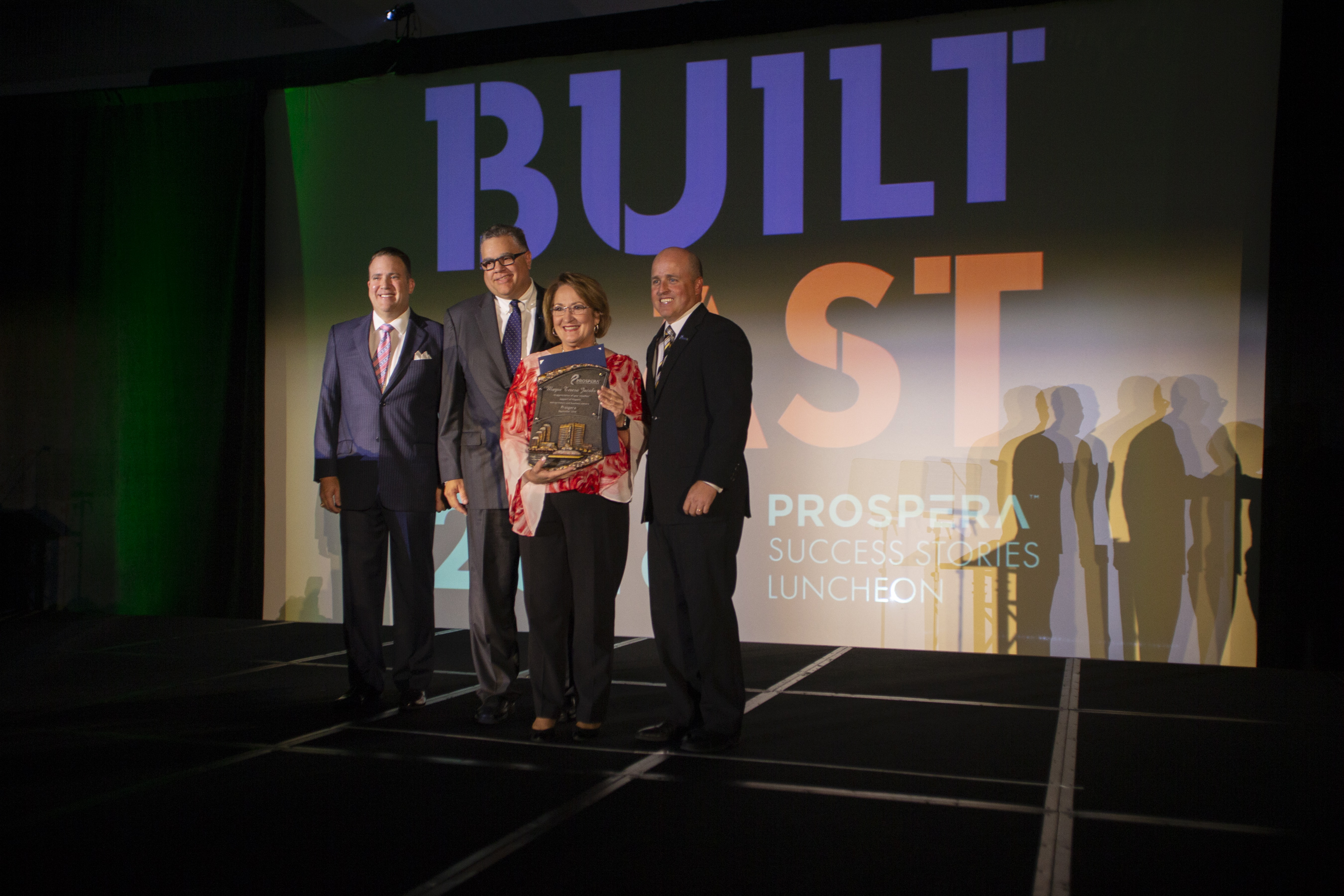 Prospera Hosts Annual 2018 Success Stories Luncheon
Orange County Government and community leaders attended Prospera's 2018 Annual Success Stories Luncheon on Sept. 5 in support of Hispanic entrepreneurs throughout Central Florida.
Formerly named the Hispanic Business Initiative Fund, Prospera is a nonprofit economic development organization that serves Orange County's Hispanic business owners by providing quality bilingual business development and training services.
The event is Prospera's signature annual fundraising event. It recognizes excellence in small business ownership and celebrates the spirit of entrepreneurship within the Hispanic community. The luncheon, held at the Rosen Plaza Hotel on International Drive, welcomed attendees, including representatives from government and civic organizations and business leaders from across Central Florida.
Orange County Mayor Teresa Jacobs presented a proclamation to the chair of Prospera's statewide board of directors Victor R. Rivera and Prospera president and CEO Augusto Sanabria. The proclamation recognized Sept. 5, 2018, as Prospera's Success Stories Luncheon Day in Orange County.
"From vibrant cultural offerings to job creation and entrepreneurship, we are so thankful for the contributions of our Hispanic and Latino community to Orange County's success," Mayor Jacobs said during her proclamation presentation. "Thank you to Prospera for enhancing economic development throughout our region and improving our quality of life by developing skilled professionals and creating business opportunities."
Honorees included Hispanic entrepreneurs Richard and Jeannette Coronado, owners of JIRACOR; Dr. Josue Maysonet, who owns Kerinver Chiropractic Health; and Denisse Lamas, founder of Hispanic Family Counseling. All have successfully expanded their businesses with assistance from Prospera.
For more than 25 years, Prospera has provided thousands of Hispanic entrepreneurs with bilingual educational assistance, individual technical assistance, entrepreneurial grants for subcontracted services and loan facilitation.
Orange County has been a generous supporter of Prospera since 1995, when it was established as the HBIF of Greater Orlando, through financial investments, ongoing partnership and the current participation of Mayor Jacobs' Chief of Staff Graciela Noriega Jacoby on the Statewide Board of Directors. From extraordinary culture, arts, academic achievement and leadership, Hispanic citizens and businesses have had an incredibly positive impact in Orange County.
Last year alone, Prospera helped Central Florida Hispanic business owners create or retain over 1,550 jobs.
After Hurricane Maria hit Puerto Rico in 2017, Prospera responded by helping some business owners and entrepreneurs get back on their feet and gain financial independence through business ownership in Central Florida.
The luncheon marks the beginning of a month long celebration recognizing Hispanic Heritage Month in Orange County. On Sept. 18, the Hispanic Heritage Committee of Greater Orange County (HHCGOC) will host its annual Hispanic Heritage Month Kick-Off at the Orange County Administration Center. The event will feature traditional Hispanic musical performances, delicious food and a special presentation by Mayor Jacobs and the Board of County Commissioners. The HHCGOC is a volunteer-based organization founded in 1999 with the purpose of providing opportunities that promote and highlight the contributions made by individuals of Hispanic descent in the community. Thirty percent of Orange County's population is of Hispanic descent.
Orange County will wrap up its Hispanic Heritage festivities with the Mayor's Cup Soccer Tournament Finals and Trophy Ceremony on Oct. 21 at Young Pine Park, 5201 Young Pine Rd., from 9 a.m. to 2 p.m. Guests and players will celebrate the championships and be recognized for their participation.
Photo Caption: Orange County Mayor Teresa Jacobs was recognized at Prospera's 2018 Annual Success Stories Luncheon on Sept. 5 for her longstanding support of Hispanic entrepreneurs throughout Orange County.