18 July, 2019
Contact: Ilia Torres, Special Assistant to Mayor Jerry L. Demings, Orange County Government
Email: ilia.torres@ocfl.net

Media Contact: Kelly Finkelstein, Senior Public Information Officer, Orange County Government
Email: Kelly.Finkelstein@ocfl.net
Phone: 407-836-5818
Orange County Hispanic Heritage Committee Seeks to Highlight Artists and Artwork during Hispanic Heritage Month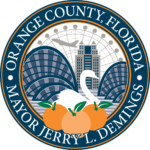 WHAT: The Hispanic Heritage Committee of Greater Orange County is calling for Central Florida artists to submit their Hispanic-themed artwork to be displayed at Orange County Government buildings during Hispanic Heritage month.
HOW: All artists' submission must include the title of the piece, the medium and the dimensions (including the frame), a digital picture for each work of art and an artist's statement. Completed applications and high resolution artwork images should be submitted to Ilia Torres, ilia.torres@ocfl.net.
WHEN: Application deadline is August 9, 2019. If chosen, artists will be required to deliver their artwork to the Orange County Administration Building from August 26 to August 30, between 10 a.m. to 4 p.m. The artwork exhibition will open to the public on September 4, 2019 will run until October 31, 2019.
RULES & INFO: All works of art must be original work by a local Central Florida artist and must be Hispanic heritage themed. Artists may submit up to four works of art. Any artwork that was displayed in previous years is not permitted. All works of art must be "wall ready" when delivered (i.e., all mounting hardware and wire must be included and attached).
Application and more information can be found at https://newsroom.ocfl.net/hhc . For more information, contact Ilia Torres, Special Assistant to Mayor Jerry L. Demings 407-836-7370 or by email at ilia.torres@ocfl.net.
About Orange County Government: Orange County Government strives to serve its residents and guests with integrity, honesty, fairness and professionalism. Located in Central Florida, Orange County includes 13 municipalities and is home to world-famous theme parks, one of the nation's largest convention centers and a thriving life science research park. Seven elected members make up the Board of County Commissioners, including the Mayor, who is elected countywide. For more information, please visit www.OCFL.net or go to Orange County Government's social media channels.
Back To Top