12 December, 2019
Orange County Communications Division
Email: pio@ocfl.net
Mayor Demings Announces the Selection of the Chief Sustainability & Resilience Officer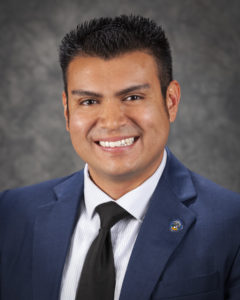 Orange County, Fla. – Orange County Mayor Jerry L. Demings is pleased to announce the hiring of Jeff Benavides as Chief Sustainability and Resilience Officer for Orange County. The creation of this position was one of the top priorities of Mayor Demings' Transition Team.
"We have to significantly enhance our sustainability and resiliency efforts," said Mayor Demings. "This is an important step in achieving our goals for a sustainable future and finding the right person to lead our efforts."
Benavides joins Orange County, Florida as an advocate for regional sustainability, resiliency, and high-performance buildings. An Orange County resident since 2006, Benavides has been a pioneer in launching award-winning sustainability programs and assisting in creating more than $5 million in energy and water savings with Wyndham Hotels & Resorts. Benavides also worked for the City of Orlando Green Works program, and the micro-finance loan funding program SELF (Solar and Energy Loan Fund).
"Jeff's skills in community education, his entrepreneurial mindset, and experience in leading public-private green initiatives will position Orange County as a leader for sustainability and resiliency in the southeast," added Mayor Demings.
Benavides currently serves on the steering committee for the East Central Florida Planning Council Regional Resilience Collaborative, representing over 75 municipalities and eight counties. He also serves on the Board of Directors for the U.S. Green Building Council of Central Florida, and Rebuilding Together Orlando collaborating with FEMA and Orange County's Long Term Recovery Group to provide roof replacements and safe home improvements to low income and disaster impacted families in Central Florida.
Benavides received his Bachelor of Science in Hospitality Management from the University of Central Florida Rosen College and has earned a sustainability professional certificate from the International Society of Sustainability Professionals.
In his new role, Benavides will work county-wide to develop a clear and compelling vision for community resilience and sustainability and effectively coordinate efforts to achieve measurable progress toward that vision.
About Orange County Government: Orange County Government strives to serve its residents and guests with integrity, honesty, fairness and professionalism. Located in Central Florida, Orange County includes 13 municipalities and is home to world-famous theme parks, one of the nation's largest convention centers and a thriving life science research park. Seven elected members make up the Board of County Commissioners, including the Mayor, who is elected countywide. For more information, please visit www.OCFL.net or go to Orange County Government's social media channels.
Back To Top