02 December, 2022
Orange County Government Public Information Officer
Email: PIO@ocfl.net
Orange County Government Employees Give Big To Heart of Florida United Way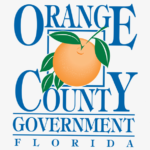 Orange County FL – Today, Orange County Government along with constitutional partners, the Orange County Sheriff's Office, Orange County Clerk of Court, Supervisor of Elections and the Comptroller's Office announced a record-breaking year of giving for the 2022 employee donation campaign to benefit the Heart of Florida United Way.  This is the 27th year of the county's annual employee giving campaign and surpasses the previous record by nearly 20 percent.  The big check in the amount of $826,376.00 was unveiled in a fun-filled celebration with more than 250 people attending.
The donation comes from the men and women who make up Orange County Government who choose to give financially to the campaign to benefit Central Florida through the Heart of Florida United Way.
The majority of the funds were raised through the employee donation campaign. Throughout the year, county employees plan events to create awareness about the services offered through Heart of Florida United Way. Services which include supporting veterans, providing hurricane recovery resources and support for those who may need a helping hand through job placement assistance, and financial support for households who are in a difficult situation.
"Orange County Government partners with Heart of Florida United Way to support residents through a vast array of programs, "said Danny Banks Chairman of the Orange County Heart of Florida United Way campaign. "We are honored to be joined by fantastic community leaders and our own employees who proudly serve and give back to the community."
In addition to employee payroll deductions, County fundraising events included: an annual golf tournament, which raised over $93,000; the Orange County Fire Rescue 343 challenge event, which raised approximately $17,000 and numerous other fundraising events and activities.
"We are beyond grateful for the generosity of Orange County Government employees and their dedication to making our community a better place," said Jeff Hayward, President & CEO of Heart of Florida United Way. "Year after year, Orange County steps up in a bigger way for Central Florida. You are making difference, delivering hope and a better future for our neighbors in need."
Why we give video featuring Mayor Jerry L. Demings: https://ocfl.box.com/s/eoldvswpgc0jxaotphccnpbx7lqx7jie
Event Photos & Video: https://ocfl.box.com/s/xs99zqhm0tct7asdrcbxgncpou8rd0ua
About Orange County Government: Orange County Government strives to serve its residents and guests with integrity, honesty, fairness and professionalism. Located in Central Florida, Orange County includes 13 municipalities and is home to world-famous theme parks, one of the nation's largest convention centers and a thriving life science research park. Seven elected members make up the Board of County Commissioners, including the Mayor, who is elected countywide. For more information, please visit www.OCFL.net or go to Orange County Government's social media channels.
Back To Top