08 April, 2019
Doreen Overstreet, Senior Public Information Officer, Orange County Government
Email: Doreen.Overstreet@ocfl.net
Phone: 407-836-5301
Orange County Mayor Jerry L. Demings Launches Housing for All Task Force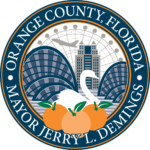 Initial Meeting Date Set and Open to the Public
WHAT: The first meeting of Orange County Mayor Jerry L. Deming' Housing for All Task Force will be held on Friday, April 12, 2019 from 9 a.m. to 11 a.m. The meeting will be held at the Orange County Administration Center at the Commission Chambers, located at 201 S. Rosalind Ave., Orlando.
Mayor Demings launched the Housing for All Task Force to promote a transparent system that encourages community engagement in order to address the affordable housing crisis in Orange County. The goal of the Task Force is to find practical and lasting solutions that will lead to the increased supply of affordable housing in Orange County
The Task Force is led by co-chairs Allan Keen and Terry Prather along with 37 members representing the community, leaders from a diverse group of non-profit organizations and major employers, local builders, real estate developer associations, community partners and financial institutions.
All Task Force meetings are open to the public, and citizen comments are welcome at the beginning of each meeting. Meetings will be recorded by Orange TV, but will not be live. A link to the meeting will be posted on Orange County Government's website.
The Housing for All Task Force includes three subcommittees that will meet as scheduled. Each subcommittee focuses on a different aspect of the affordable housing issue. For more information and a full list of Task Force members, visit www.ocfl.net/HousingForAll.
WHO: Orange County Mayor Jerry L. Demings' Housing for All Task Force
WHEN: Friday, April 12, 2019 from 9 a.m. to 11 a.m.
WHERE: Orange County Administration Center
Orange County Board of County Commissioners Chambers
1st Floor
201 S. Rosalind Ave., Orlando
About Orange County Government: Orange County Government strives to serve its residents and guests with integrity, honesty, fairness and professionalism. Located in Central Florida, Orange County includes 13 municipalities and is home to world-famous theme parks, one of the nation's largest convention centers and a thriving life science research park. Seven elected members make up the Board of County Commissioners, including the Mayor, who is elected countywide. For more information, please visit www.OCFL.net or go to Orange County Government's social media channels.
Back To Top