14 October, 2019
Kelly Finkelstein, Sr. Public Information Officer, Orange County Government
Email: Kelly.Finkelstein@ocfl.net
Phone: 407-836-5818
Residents Invited to Get a Kick out of Orange County Mayor's Cup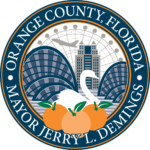 Hosted by Orange County Jerry L. Demings and the Orange County Hispanic Heritage Committee
Orange County, Fla. – The Hispanic Heritage Committee of Greater Orange County is hosting the 5th annual Orange County Mayor's Cup Soccer Tournament. This family-friendly event features youth and adult soccer teams from across Central Florida who compete in various championship categories. The championship games and the presentation of the Mayor's Cup to the winning teams is set for Sunday, Oct. 20, 2019 at Deputy Brandon Coats Community Park, located at 3815 Substation Road in Orlando.
Come join the free celebration that marks the closure of the 2019 Hispanic Heritage Month. Meet County departments, vendors and other exhibitors. Games and activities start at 10 a.m., followed by an Opening Ceremony and Finals Match at 11:30 a.m.   Orange County Mayor Jerry L Demings will lead the Trophy Awards Ceremony at 1:30 p.m. FIFA, the United States Adult Soccer Association, and the United Premier Soccer League sponsor the tournament. 
WHEN: Sunday, October 20, 2019
Games & Activities – 10 a.m.
Opening Ceremony & Finals Match – 11:30 a.m.
Trophy Awards Ceremony – 1:30 p.m.
WHERE: Deputy Brandon Coates Community Park
3815 Substation Road, Orlando, FL 32837
WHO: Orange County Mayor Jerry L. Demings
Board of County Commissioners
Local Elected Officials
United Premier Soccer League
MORE INFO: 407-836-7370 or email amoncaleano@ocfl.net
About Orange County Government: Orange County Government strives to serve its residents and guests with integrity, honesty, fairness and professionalism. Located in Central Florida, Orange County includes 13 municipalities and is home to world-famous theme parks, one of the nation's largest convention centers and a thriving life science research park. Seven elected members make up the Board of County Commissioners, including the Mayor, who is elected countywide. For more information, please visit www.OCFL.net or go to Orange County Government's social media channels.
Back To Top