29 July, 2021
Orange County Government Public Information Officer
Email: PIO@ocfl.net
Mayor Demings Reconvenes Orange County Economic Recovery Task Force
Will Meet In Person and Virtually on Monday, August 2, 2021 at 1 p.m.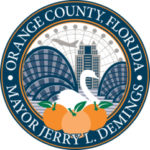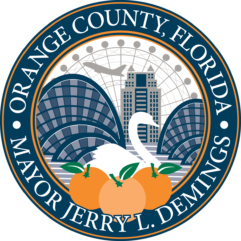 Orange County, Fla. – With Orange County experiencing double-digit COVID-19 positivity rates and averaging nearly 1,000 new COVID-19 cases a day, Orange County Mayor Jerry L. Demings is reconvening the 'Orange County Economic Recovery Task Force' in effort to work with business leaders on getting their employees vaccinated, and keeping patrons safe.
"We all are going to have to make adjustments and adapt as this virus has mutated and is now stronger," said Orange County Mayor Jerry L. Demings. "I am bringing this task force back together so we can be briefed on the latest data by health officials and discuss in real time, ways to work together and mitigate the spread of COVID-19. My goal is to increase vaccination rates, keep businesses open and keep commerce flowing all at the same time."
The Economic Recovery Task Force, which was initially established in April 2020, will meet for the first time in over a year on Monday, August 2, 2021 at 1 p.m.
The Task Force is co-chaired by President & CEO of Visit Orlando Cassandra Matej and President & CEO of the Orlando Economic Partnership, Tim Giuliani. The goal of the Task Force was to create a measured approach to restart the local economy after the closures due to the COVID-19 pandemic. Over 50 of the brightest minds in our business, tourism community and public-private sector focused on recommendations for reopening Orange County in phases to ease restrictions, while ensuring the safety of employees and the public.
The group consists of individuals representing local hospitals, theme parks, financial institutions, hotels, small businesses and non-profit economic development agencies. The Task Force also includes representatives from Lake, Osceola and Seminole Counties.
Orange TV will carry the Orange County Economic Recovery Task Force meeting live.  Viewing options include Channel 488 on Spectrum, Channel 9 on Comcast, 1081 CenturyLink Prism TV,  WSWF Channel 10.2 (over the air), stream live at www.ocfl.net/orangetv and you can view via the Orange TV app on ROKU in the Education category.
For more information on the Orange County Economic Recovery Task Force, visit www.ocfl.net/EconomicRecovery. For questions or additional information regarding the Task Force, contact EconomicRecovery@ocfl.net.
About Orange County Government: Orange County Government strives to serve its residents and guests with integrity, honesty, fairness and professionalism. Located in Central Florida, Orange County includes 13 municipalities and is home to world-famous theme parks, one of the nation's largest convention centers and a thriving life science research park. Seven elected members make up the Board of County Commissioners, including the Mayor, who is elected countywide. For more information, please visit www.OCFL.net or go to Orange County Government's social media channels.
Back To Top