17 March, 2023
Media Contacts:
Dawn.Knight@ocfl.net
PIO@ocfl.net
Artists Wanted for Sculpture on the Lawn 2024 Announced by Orange County Arts & Cultural Affairs and Public Art Review Board
Deadline for submissions is Wednesday, May 31, 2023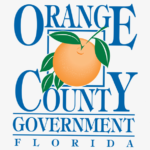 Orange County, FL – Orange County Arts & Cultural Affairs in partnership with the Public Art Review Board of the Arts & Cultural Affairs Advisory Council invites artists to submit work – existing or conceptual – for the 9th annual Sculpture on the Lawn exhibition. The outdoor display is located at the entrance to the Orange County Administration Center in the heart of downtown Orlando, Florida, where the selected works are visible to approximately 10,000 people daily.
Sculpture on the Lawn is open to experienced professional sculptors as well as students and emerging artists who specialize in the design, construction, and installation of outdoor sculptures. Up to four sculptures will be selected for display from January 2024 to January 2025.
For the first time ever, sculptures may have electrical components in addition to the illuminating spotlights permanently located on each side of the pad. Electrical support is available at each sculpture pad. Sculptors are responsible for securing wire connections for safety.
Who:
Orange County Arts & Cultural Affairs and the Public Art Review Board
What:
Call for Art for 'Sculpture on the Lawn 2024'
When:
Now through Wednesday, May 31, 2023 (mid-night MT)
Where:
CaFÉ Call for Entry (there is no fee to apply)
How:
Follow the link to the Entry application.
Deadline:  Applications Due by Wednesday, May 31, 2023 (midnight MT)
Social Tags:
#CaFÉ #CallforEntry #ArtCall #PublicArtCall #FloridaArtCall #SculptureOnTheLawn #OrangeCountyAdministrationBuilding #OrangeCountyArtsAndCulturalAffairs #Sculptor #FloridaSculptor #FloridaSculptorsGuild #MetalWork #NatlSculptGuild #KineticSculpture
About Orange County Government: Orange County Government strives to serve its residents and guests with integrity, honesty, fairness and professionalism. Located in Central Florida, Orange County includes 13 municipalities and is home to world-famous theme parks, one of the nation's largest convention centers and a thriving life science research park. Seven elected members make up the Board of County Commissioners, including the Mayor, who is elected countywide. For more information, please visit www.OCFL.net or go to Orange County Government's social media channels.
Back To Top